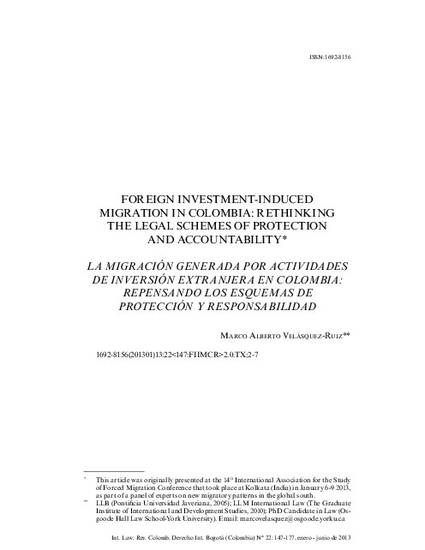 Article
Foreign Investment-Induced Migration in Colombia: Rethinking the Legal Schemes of Protection and Accountability
International Law: Revista Colombiana de Derecho Internacional (2013)
Abstract
This paper intends to explore the relation between foreign investment and forced Migration in the context of Colombian armed conflict. Through the illustration of recent cases, it shows the various forms in which the operation of multinational corporations has generated adverse effects to the vulnerable communities located at their area of influence, thus generating processes of involuntary human mobility. In that way, it is established that there is a symbiotic relation between conflict and development, affecting the structure and scope of the norms for both the protection of forced migrants and accountability for human rights violations. This is so because there is an economic interest that constrains the recognition of the above-mentioned cases under such legal sphere.
Keywords
Colombia,
forced migration,
foreign investment,
human rights,
armed conflict,
internal displacement law,
refugee law.
Publication Date
June, 2013
Citation Information
Marco A. Velásquez-Ruiz. "Foreign Investment-Induced Migration in Colombia: Rethinking the Legal Schemes of Protection and Accountability"
International Law: Revista Colombiana de Derecho Internacional
Vol. 22 (2013)
Available at: http://works.bepress.com/marco_velasquez/16/