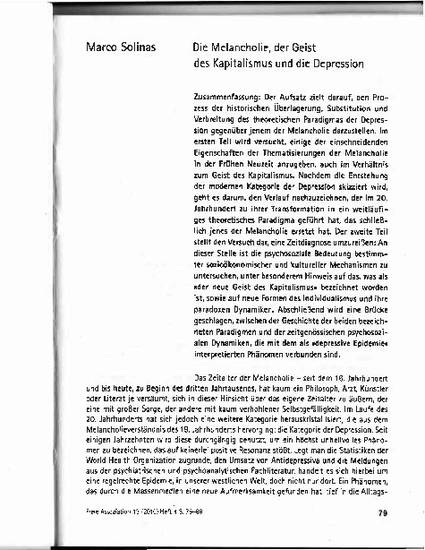 Article
Die Melancholie, der Geist des Kapitalismus und die Depression, in "Freie Assoziation", 13, n. 4 (2010), S. 79-99.
Freie Assoziation (2010)
Abstract
Der Aufsatz zielt darauf, der Prozess der historischen Überlagerung, Substitution und Verbreitung des theoretischen Paradigmas der Depression gegenüber jenem der Melancholie darzustellen. Im ersten Teil wird versucht, einige der einschneidenden Eigenschaften der Thematisierungen der Melancholie in der Frühen Neuzeit anzugeben, auch im Verhältnis zum Geist des Kapitalismus. Nachdem eine Skizze der Entstehung der moderne Kategorie der Depression, geht es darum, den Verlauf nachzuzeichnen, der im 20. Jahrhundert zu ihrer Transformation in ein weitläufiges theoretisches Paradigma geführt hat, das schließlich jenes der Melancholie ersetzt hat. Der zweite Teil stellt den Versuch dar, eine Zeitdiagnose umzureißen: An dieser Stelle ist die psychosoziale Bedeutung bestimmter sozioökonomischer und kultureller Mechanismen zu untersuchen, unter besonderem Hinweis auf das, was als »der neue Geist des Kapitalismus« bezeichnet worden ist, sowie auf neue Formen des Individualismus und ihre paradoxen Dynamiken. Abschließend wird eine Brücke geschlagen, zwischen der Geschichte der beiden bezeichneten Paradigmen und der zeitgenössischen psychosozialen Dynamiken, die mit dem als »depressive Epidemie« interpretierten Phänomen verbunden sind.
Keywords
Critical Theory,
Cultural History,
Sociology,
Social Theory,
Psychology,
Social Psychology,
Emotion,
Philosophy,
Moral Psychology,
History of Ideas,
Social Sciences,
History of Medicine,
Social Philosophy,
Depression,
History Of Emotions,
Social Justice,
History of Psychiatry,
Psychopathology,
Melancholy,
Capitalism,
History Of Madness And Psychiatry,
Work and Labour,
History Of Psychology,
Social and Political Philosophy,
Depression (Psychology),
Philosophie,
Sociologia,
Politische Philosophie,
Melancholy Studies,
Labour,
Psychologie,
Madness,
Sociología,
Critical Theory of Capitalism,
Social Conflict,
History of psychiatry and madness,
Psychopharmacology,
Depression in particular,
Renaissance melancholy and hypochondria,
Melancholy,
History of medicine,
History of Madness & Psychiatry,
Depression and Melancholy,
Labour Market Dynamics,
Psychopathologie,
Melancholie,
History of Philosophy,
History of Melancholy,
Melancholy In Sixteenth and Eighteenth Centuries,
Kapitalismus,
Kapitalismuskritik,
Contemporary Capitalism,
and Socio Political Philosophy
Citation Information
Marco Solinas. "Die Melancholie, der Geist des Kapitalismus und die Depression, in "Freie Assoziation", 13, n. 4 (2010), S. 79-99."
Freie Assoziation
(2010)
Available at: http://works.bepress.com/marco_solinas/5/