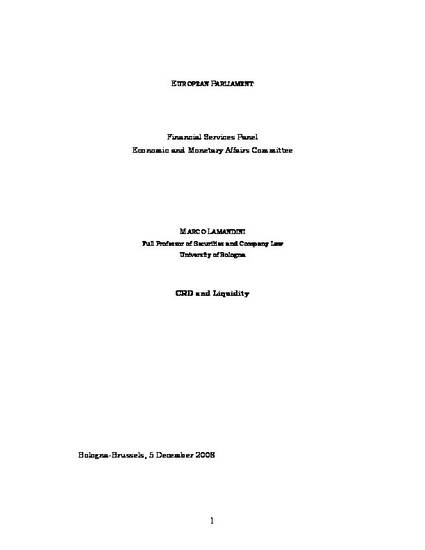 Presentation
CRD and Liquidity
Briefing paper delivered to the European Parliament, Financial Services Panel Economic and Monetary Affairs Committee, European Parliament (2008)
Abstract
The Committee has requested an opinion on CRD and liquidity. This briefing paper is intended to offer a view on this issue, the relevance of which for the sound management and prudential supervision of banks has been clearly highlighted by the current financial crisis. Paragraph 1 provides for a brief overview of the CRD proposed amendments concerning liquidity risk management and supervision. Paragraph 2 briefly discusses these proposed amendments and CEBS's recommendations on liquidity risk management. Paragraph 3 considers liquidity risk management in a banking group perspective, calling for some additional regulatory efforts to address the problem of "liquidity trap" and to strengthen cross border liquidity crisis management.
Publication Date
December 5, 2008
Citation Information
Marco Lamandini. "CRD and Liquidity"
Briefing paper delivered to the European Parliament, Financial Services Panel Economic and Monetary Affairs Committee, European Parliament
(2008)
Available at: http://works.bepress.com/marco_lamandini/13/