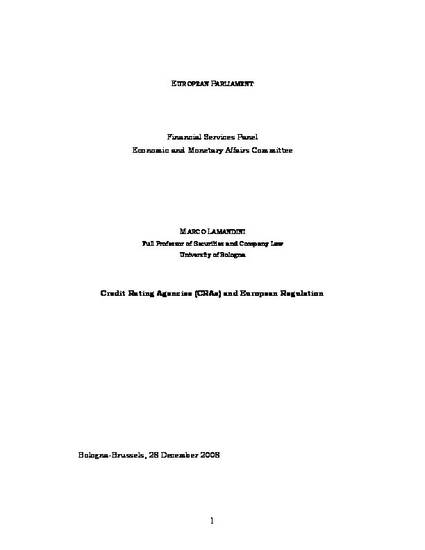 Presentation
Credit Rating Agencies (CRAs) and European Regulation
Briefing paper delivered to the European Parliament, Financial Services Panel Economic and Monetary Affairs Committee (2008)
Abstract
Financial Services Panel Economic and Monetary Affairs Committee MARCO LAMANDINI Full Professor of Securities and Company Law University of Bologna Credit Rating Agencies (CRAs) and European Regulation Bologna-Brussels, 28 December 2008 Executive summary The Committee requested an opinion on CRA. This briefing paper endeavours to offer a view on this issue, whose relevance for the proper functioning of financial markets emerged already in the wake of the Enron scandal but has been dramatically high-lightened by the current financial crisis. Paragraph 1 provides a brief overview of the European proposal for a regulation on CRAs against the backdrop of recognized market failures and of the self-regulatory and US initiatives already in place. Paragraph 2 briefly discusses in particular the innovative supervisory arrangements centred on CESR, envisaged by the proposal. Paragraph 3 calls for some attention as regards CRAs' liability and appointment.
Publication Date
December 28, 2008
Citation Information
Marco Lamandini. "Credit Rating Agencies (CRAs) and European Regulation"
Briefing paper delivered to the European Parliament, Financial Services Panel Economic and Monetary Affairs Committee
(2008)
Available at: http://works.bepress.com/marco_lamandini/12/