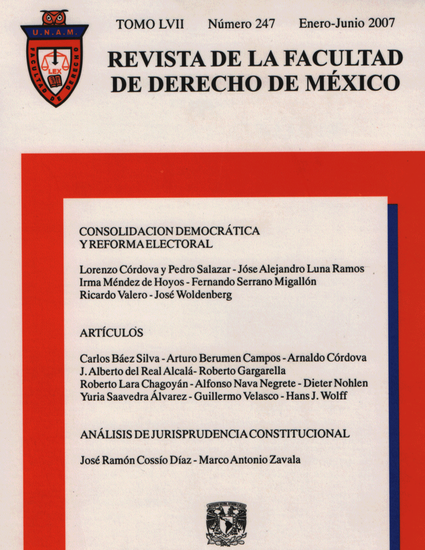 Article
El levantamiento del velo en el derecho electoral mexicano
Revista de la Facultad de Derecho de México (2007)
Abstract
A pesar del tiempo transcurrido desde que la Sala Superior del Tribunal Electoral del Poder Judicial de la Federación (SSTEPJF) aplicó la técnica del levantamiento del velo, al resolver el recurso de apelación interpuesto por el Partido Revolucionario Institucional (PRI) contra la millonaria sanción impuesta por el Consejo General del Instituto Federal Electoral (CGIFE), con motivo del desvío de recursos del Sindicato de Trabajadores Petroleros de la República Mexicana (affaire que coloquialmente recibió el nombre de "Pemexgate"), y las pláticas a que he hecho mención, la eventual utilización de esta técnica por las autoridades electorales sigue conservando una actualidad indiscutible, especialmente si se asume una concepción del derecho que tenga como sustento de todo el ordenamiento a los valores, principios y derechos de rango constitucional, y a la función que deben desarrollar los operadores jurídicos institucionales siempre encaminada a la más efectiva realización de los mismos.
Keywords
TEPJF,
Tribunal Electoral del Poder Judicial de la Federación,
levantamiento del velo,
Sala Superior,
Pemexgate,
piercing of the corporate veil,
derecho electoral
Citation Information
Marco Antonio Zavala Arredondo. "El levantamiento del velo en el derecho electoral mexicano"
Revista de la Facultad de Derecho de México
Vol. LVII Iss. 247 (2007) p. 385 - 431
Available at: http://works.bepress.com/marco-zavala/2/