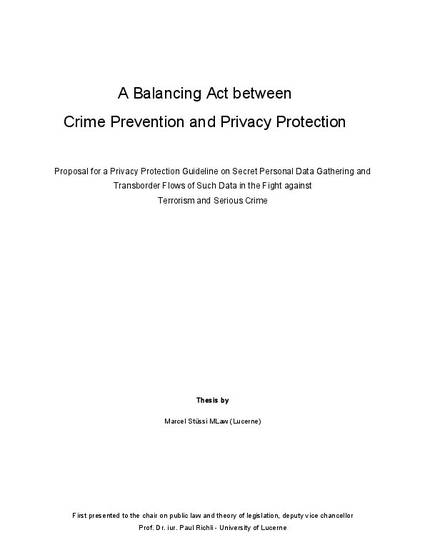 Article
A Balancing Act Between Crime Prevention and Privacy Protection
University of Lucerne 2006, Unpublished (2007)
Abstract
How should individuals who live their lives with complete integrity, enjoy family harmony and pursue an honourable occupation be unmasked as potential, internationally operating terrorists and perpetrators of other serious crimes if not by secretly listening to their telephone calls, opening and reading the content of their letters or e-mail messages, and exchanging that data across frontiers and between Governments?
As pointed out in Part VII, Paragraph 1.4 to 1.6, this dilemma becomes apparent when considering the State's duty to prevent terrorism and serious crime on the one hand, and have respect for privacy and individual liberties on the other. The solution put forward in this paper is a compromise between these competing values. Part II, Basic Proposals of National Application, proposes a system of checks and balances that should not only enable governments to conduct SPDG, but prevent them from acting ultra vires.
In order that a government action can be regarded as checked and balanced, it must pass through the so-called Montesquieuian gauntlet. Part II, Chapter D., Articles 5 to 7 provide the ability, right, and responsibility to a power, other than the one involved in the systematic and secret acquisition of personal data, to monitor the activities of the public authority actually carrying out covert operations and investigations. Although the guideline encourages the ability of each branch to use its authority to limit the powers of another branch, it recognises that it is the political and legal task of the individual State to decide how to keep each independent entity within its prescribed powers.
Part III of the guideline has as its objective the elimination of the reasons which might prompt governments to restrict transborder flows of secretly gathered personal data. And in Part VIII the paper questions whether, in today's reality, traditional counter-terrorism measures are justifiable. Ultimately, it endeavours to provide an impetus for activities which focus directly on the causes of human conflict, thereby paving the way for secure, just and tolerant societies.
Keywords
Privacy,
The Right to Privacy,
Privacy Protection,
Human Rights Law,
Intelligence Agencies,
Security Services,
Secret Personal Data Gathering,
Marcel Stuessi
Publication Date
June, 2007
Citation Information
Marcel Stuessi. "A Balancing Act Between Crime Prevention and Privacy Protection"
University of Lucerne 2006, Unpublished
(2007)
Available at: http://works.bepress.com/marcel_stuessi/2/