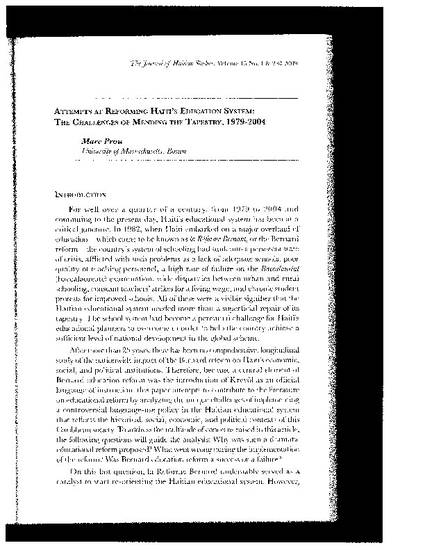 Article
Attempts at Reforming Haiti's Education System: The Challenges of Mending the Tapestry, 1979-2004
Journal of Haitian Studies (JOHS) (2009)
Abstract
For well over a quarter of a century, Haiti's education system has been at a critical juncture. In 1982, Haiti embarked on a major educational reform, known as La Reforme Bernard. To date, there has been no comprehensive, longitudinal study of the nationwide impact of the Bernard Reform on the social, economic, and political institutions. Why was such a dramatic education reform proposed? What went wrong during the implementation of the reform? Was Bernard education Reform a success or a failure? These are some of the questions addressed in the article. the school system had become a perennial challenge for Haiti's educational planners to overcome in order to help the country achieve a sufficient level of national development in the global scheme.
Keywords
education reform,
Haiti,
language,
Haitian Kreyol,
bilingualism,
national development
Citation Information
Marc E. Prou. "Attempts at Reforming Haiti's Education System: The Challenges of Mending the Tapestry, 1979-2004"
Journal of Haitian Studies (JOHS)
Vol. Vol. 15 Iss. No. 1 & 2 (2009)
Available at: http://works.bepress.com/marc_prou/3/