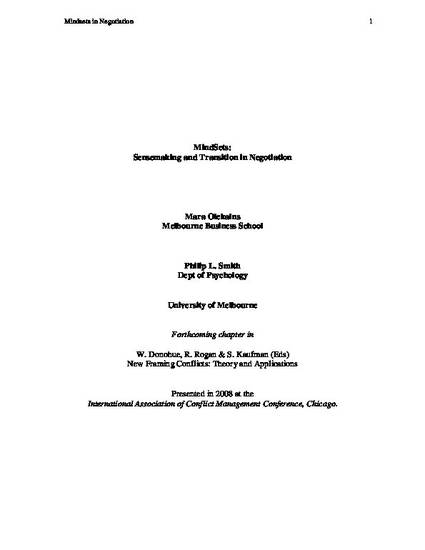 Contribution to Book
MindSets: Sensemaking and Transition in Negotiation
Framing Conflicts: Theory and Applications (2010)
Abstract
A negotiation's opening moments are characterized by high levels of uncertainty. During this phase, individuals screen each other's behavior for clues about underlying goals and motives. Much of this information is conveyed implicitly by the language that negotiators use. The words they choose and the way they respond to the other party provide important clues about negotiators' dominant goals and strategy preferences. At the same time, negotiators use incoming information to assess the other party's intentions. In negotiation, this uncertainty resolves itself into questions about the other party's trustworthiness. Because negotiations are characterized by a vulnerability to the actions of another person, individuals need to resolve uncertainty about the other party's intentions, especially the question of whether the other party will act exploitatively. Consequently, as negotiators monitor the stream of communication, one of their tasks is to determine the likelihood that the other party will act in a self-interested way and claim a greater share of available resources.
Keywords
negotiation processes,
trust,
conflict frames,
mindsets
Editor
W.Donohue, S. Kaufman, R.Rogan
Citation Information
Mara Olekalns and Philip L Smith. "MindSets: Sensemaking and Transition in Negotiation"
Framing Conflicts: Theory and Applications
(2010)
Available at: http://works.bepress.com/mara_olekalns/7/