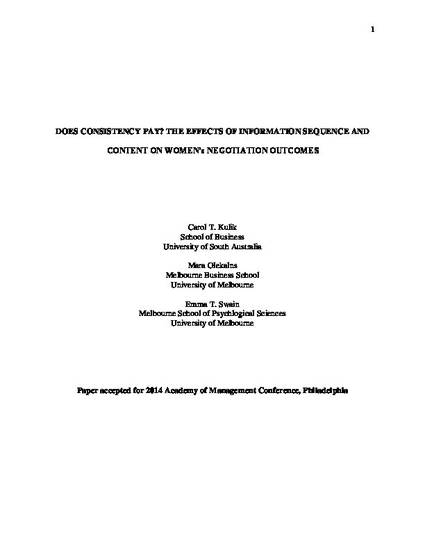 Presentation
Does consistency pay? The effects of information sequence and content on women's negotiation outcomes
Academy of Management (2014)
Abstract
Women are usually perceived as warm or competent, but rarely both. This research investigates how the sequence and content of warmth-relevant relational information and competence-relevant performance information affects female negotiators' social (perceptions of their warmth and competence) and economic outcomes. Female employers (but not male employers) rated a negotiating female employee as high warmth when they received relational information first and were able to discount the employee's competence with a team-based relational attribution (E1) or when they received performance information first and were convinced the employee's warm behavior was genuine (E2). The sequence and content of warmth-relevant and competence-relevant information interacted with employers' first impressions to affect the employee's negotiation outcomes. When performance information was presented first, the female employee's distributive outcomes benefited from high-competence impressions with female employers but from low-competence impressions with male employers (E1); her distributive outcomes were harmed by authentic warmth in negotiations with male employers (E2). When relational information was presented first, the female employee's distributive outcomes suffered as a result of converging information about high-competence (E1); integrative outcomes benefitted when relational information was offset by impressions of low, instrumental warmth (E2). The results suggest that pre-negotiation information can help women to preserve their social outcomes (perceptions of warmth) in a negotiation context.
Keywords
gender,
negotiation,
stereotype content,
social outcomes
Citation Information
Carol T Kulik, Mara Olekalns and Emma T Swain. "Does consistency pay? The effects of information sequence and content on women's negotiation outcomes"
Academy of Management
(2014)
Available at: http://works.bepress.com/mara_olekalns/33/