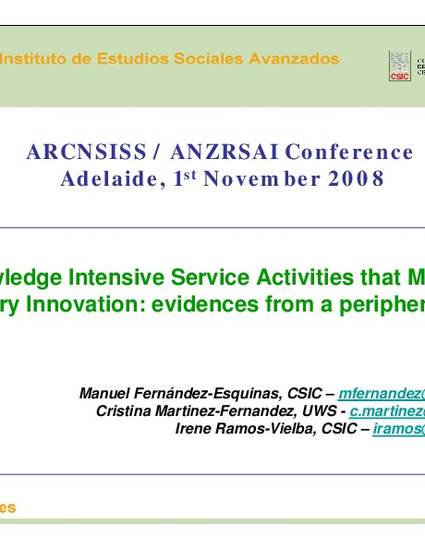 Presentation
Knowledge intensive service activities that matter for industry innovation: evidences from a peripheral region
Australia and New Zealand Regional Science Association ANZRSAI / ARCNSISS Conference (2008)
Abstract
The innovation systems literature has long considered the role of different actors and institutions in the promotion and diffusion of innovation, both in industry systems and in regional systems. An area of increasing attention but where less evidence is found is how open innovation occurs in enterprises located in peripheral regions; specifically which knowledge intensive service activities (KISA) are core for their innovation efforts and how are they co-produced through internal and external sources. This paper discusses innovation related knowledge intensive service activities in enterprises of a region of Southern Spain (Andalucia) and how these activities constitute a system of open innovation impacting on the region. Evidence is presented from a survey of 737 enterprises, discussing their use of knowledge intensive business services (KIBS) as providers of expertise, the use of activities related to R&D and the acquisition of knowledge (KISA-innovation), and the use of activities related to the training of workers (KISA-skills).
Keywords
industry innovation,
regional innovation,
knowledge intensive service activities
Citation Information
Manuel Fernández-Esquinas, Cristina Martínez-Fernández, Irene Ramos-Vielba and Carmen Merchán-Hernández. "Knowledge intensive service activities that matter for industry innovation: evidences from a peripheral region"
Australia and New Zealand Regional Science Association ANZRSAI / ARCNSISS Conference
(2008)
Available at: http://works.bepress.com/manuel_fernandez_esquinas/25/