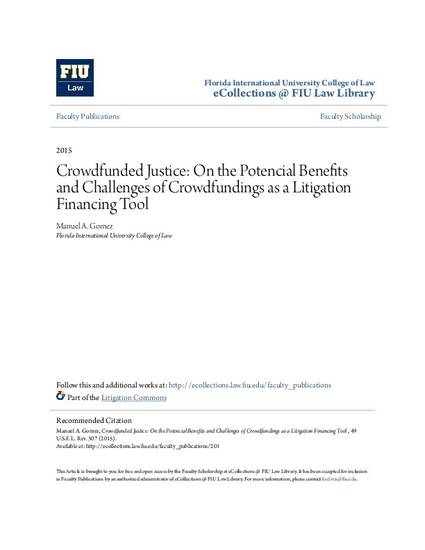 Article
Crowdfunded Justice: On the Potencial Benefits and Challenges of Crowdfunding as a Litigation Financing Tool
U.S.F. L. Rev.
Publication Date
1-1-2015
Excerpt
If the Decade-Old crowdfunding industry is still perceived to be in its infancy, crowd litigation funding (CLF) is simply nascent. The possibility of relying on small donations, given-mostly online-by hundreds of individuals who are unrelated to each other, to help defray the potentially high costs of litigation appears to be a welcomed idea. Unlike the vast division existing between proponents and detractors of the alternative litigation finance (ALF) industry,' and the potentially pernicious effects of and the apprehension generated by the ability of a financier extraneous to the litigation to intrude in the parties' dealings and assert control over the litigation, 2 CLF has flown under the radar and has not elicited any meaningful controversy to this day.
Citation Information
Manuel A. Gomez. "Crowdfunded Justice: On the Potencial Benefits and Challenges of Crowdfunding as a Litigation Financing Tool"
U.S.F. L. Rev.
Vol. 49 (2015) p. 307
Available at: http://works.bepress.com/manuel-gomez/13/