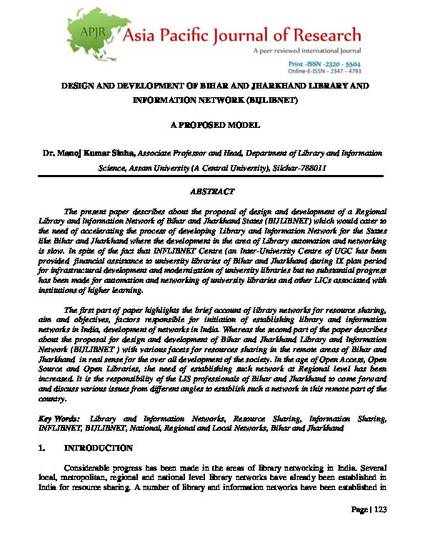 Article
Design and Development of Bihar and Jharkhand Library Network __MKS.pdf
Asia Pacific Journal of Research (2014)
Abstract
The present paper describes about the proposal of design and development of a Regional Library and Information Network of Bihar and Jharkhand States (BIJLIBNET) which would cater to the need of accelerating the process of developing Library and Information Network for the States like Bihar and Jharkhand where the development in the area of Library automation and networking is slow. In spite of the fact that INFLIBNET Centre (an Inter-University Centre of UGC has been provided financial assistance to university libraries of Bihar and Jharkhand during IX plan period for infrastructural development and modernization of university libraries but no substantial progress has been made for automation and networking of university libraries and other LICs associated with institutions of higher learning. The first part of paper highlights the brief account of library networks for resource sharing, aim and objectives, factors responsible for initiation of establishing library and information networks in India, development of networks in India. Whereas the second part of the paper describes about the proposal for design and development of Bihar and Jharkhand Library and Information Network (BIJLIBNET ) with various facets for resources sharing in the remote areas of Bihar and Jharkhand in real sense for the over all development of the society. In the age of Open Access, Open Source and Open Libraries, the need of establishing such network at Regional level has been increased. It is the responsibility of the LIS professionals of Bihar and Jharkhand to come forward and discuss various issues from different angles to establish such a network in this remote part of the country.
Keywords
Library and Information Networks,
Resource Sharing,
Information Sharing,
INFLIBNET,
BIJLIBNET,
National,
Regional and Local Networks,
Bihar and Jharkhand
Publication Date
Winter February 1, 2014
Citation Information
Manoj Kumar Sinha. "Design and Development of Bihar and Jharkhand Library Network __MKS.pdf"
Asia Pacific Journal of Research
Vol. 1 Iss. 14 (2014) p. 123 - 134 ISSN: ISSN: 2320-5504, E-ISSN-2347-4793
Available at: http://works.bepress.com/manojkumar-sinha/1/