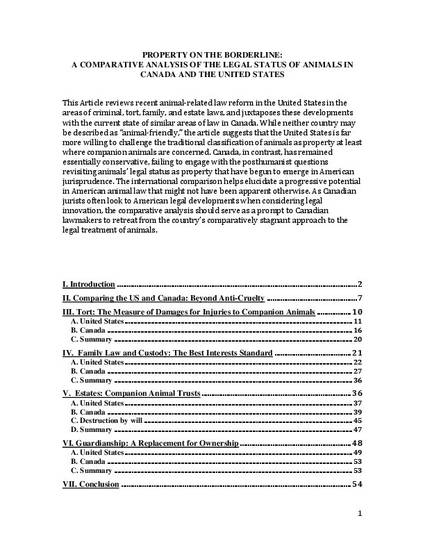 Unpublished Paper
PROPERTY ON THE BORDERLINE: A COMPARATIVE ANALYSIS OF THE LEGAL STATUS OF ANIMALS IN CANADA AND THE UNITED STATES
ExpressO (2011)
Abstract
This Article reviews recent animal-related law reform in the United States in the areas of criminal, tort, family, and estate laws, and juxtaposes these developments with the current state of similar areas of law in Canada. While neither country may be described as "animal-friendly," the article suggests that the United States is far more willing to challenge the traditional classification of animals as property at least where companion animals are concerned. Canada, in contrast, has remained essentially conservative, failing to engage with the posthumanist questions revisiting animals' legal status as property that have begun to emerge in American jurisprudence. The international comparison helps elucidate a progressive potential in American animal law that might not have been apparent otherwise. As Canadian jurists often look to American legal developments when considering legal innovation, the comparative analysis should serve as a prompt to Canadian lawmakers to retreat from the country's comparatively stagnant approach to the legal treatment of animals.
Keywords
animal law,
property,
anti-cruelty,
custody,
torts,
estates,
companion animals,
Canada
Publication Date
August 3, 2011
Citation Information
Maneesha D Deckha. "PROPERTY ON THE BORDERLINE: A COMPARATIVE ANALYSIS OF THE LEGAL STATUS OF ANIMALS IN CANADA AND THE UNITED STATES"
ExpressO
(2011)
Available at: http://works.bepress.com/maneesha_deckha/1/