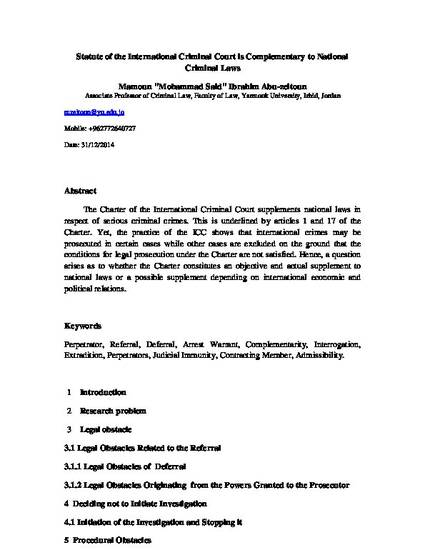 Unpublished Paper
Statute of the International Criminal Court is Complementary to National Criminal Laws
ExpressO (2015)
Abstract
Abstract The Charter of the International Criminal Court supplements national laws in respect of serious criminal crimes. This is underlined by articles 1 and 17 of the Charter. Yet, the practice of the ICC shows that international crimes may be prosecuted in certain cases while other cases are excluded on the ground that the conditions for legal prosecution under the Charter are not satisfied. Hence, a question arises as to whether the Charter constitutes an objective and actual supplement to national laws or a possible supplement depending on international economic and political relations.
Keywords
Keywords Perpetrator,
Referral,
Deferral,
Arrest Warrant,
Complementarity,
Interrogation,
Extradition,
Perpetrators,
Judicial Immunity,
Contracting Member,
Admissibility.
Publication Date
February 1, 2015
Citation Information
Mamoun Mohammad Abuzeitoun. "Statute of the International Criminal Court is Complementary to National Criminal Laws"
ExpressO
(2015)
Available at: http://works.bepress.com/mamoun_abuzeitoun/1/