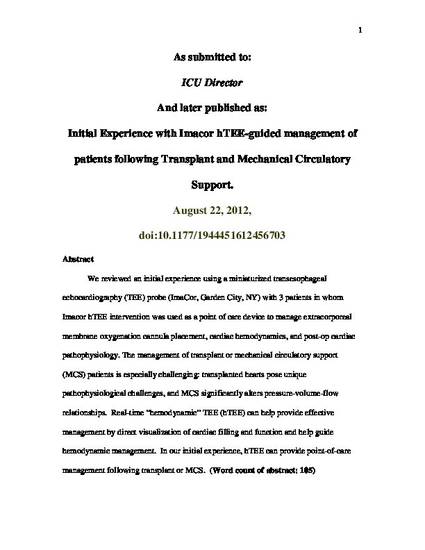 Article
Initial experience with Imacor hTEE-guided management of patients following transplant and mechanical circulatory support.
Department of Cancer Biology Faculty Papers
Publication Date
11-1-2012
Abstract
We reviewed an initial experience using a miniaturized transesophageal echocardiography (TEE) probe (ImaCor, Garden City, NY) with 3 patients in whom Imacor hTEE intervention was used as a point of care device to manage extracorporeal membrane oxygenation cannula placement, cardiac hemodynamics, and post-op cardiac pathophysiology. The management of transplant or mechanical circulatory support (MCS) patients is especially challenging: transplanted hearts pose unique pathophysiological challenges, and MCS significantly alters pressure-volume-flow relationships. Real-time "hemodynamic" TEE (hTEE) can help provide effective management by direct visualization of cardiac filling and function and help guide hemodynamic management. In our initial experience, hTEE can provide point-of-care management following transplant or MCS.
Citation Information
Christopher Kang, Hitoshi Hirose, Harold Hasting and. "Initial experience with Imacor hTEE-guided management of patients following transplant and mechanical circulatory support." (2012)
Available at: http://works.bepress.com/mallorca/191/