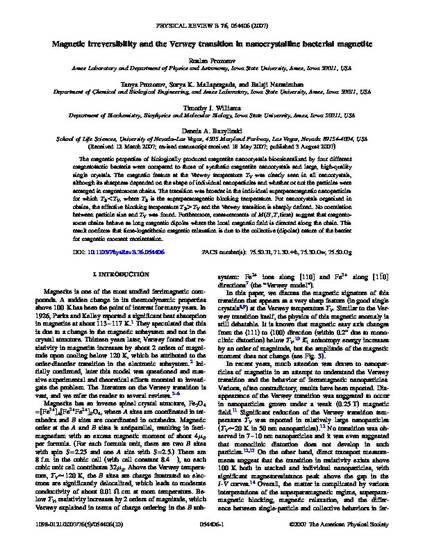 Article
Magnetic irreversibility and the Verwey transition in nanocrystalline bacterial magnetite
Physical Review B - Condensed Matter and Materials Physics
Publication Date
1-1-2007
DOI
10.1103/PhysRevB.76.054406
Abstract
The magnetic properties of biologically produced magnetite nanocrystals biomineralized by four different magnetotactic bacteria were compared to those of synthetic magnetite nanocrystals and large, high-quality single crystals. The magnetic feature at the Verwey temperature TV was clearly seen in all nanocrystals, although its sharpness depended on the shape of individual nanoparticles and whether or not the particles were arranged in magnetosome chains. The transition was broader in the individual superparamagnetic nanoparticles for which TB < TV, where TB is the superparamagnetic blocking temperature. For nanocrystals organized in chains, the effective blocking temperature TB > TV and the Verwey transition is sharply defined. No correlation between particle size and TV was found. Furthermore, measurements of M (H,T,time) suggest that magnetosome chains behave as long magnetic dipoles where the local magnetic field is directed along the chain. This result confirms that time-logarithmic magnetic relaxation is due to the collective (dipolar) nature of the barrier for magnetic moment reorientation.
Copyright Owner
The American Physical Society
File Format
application/pdf
Citation Information
Ruslan Prozorov, Tanya Prozorov, Surya K. Mallapragada, Balaji Narasimhan, et al.. "Magnetic irreversibility and the Verwey transition in nanocrystalline bacterial magnetite"
Physical Review B - Condensed Matter and Materials Physics
Vol. 76 Iss. 5 (2007) p. 054406-1 - 054406-10
Available at: http://works.bepress.com/mallapragada_surya_k/21/