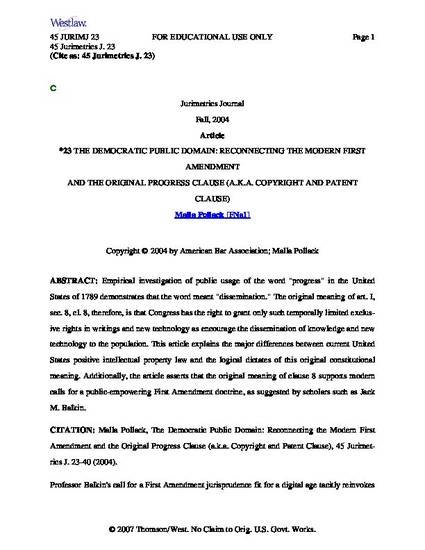 Article
The Democratic Public Domain: Reconnecting the Modern First Amendment and the Original Progress Clause (a.k.a. Copyright and Patent Clause)
Jurimetrics (2004)
Abstract
Empirical investigation of public usage of the word "progress" in the United States of 1789 demonstrates that the word meant "dissemination." The original meaning of art. I, sec. 8, cl. 8, therefore, is that Congress has the right to grant only such temporally limited exclusive rights in writings and new technology as encourage the dissemination of knowledge and new technology to the population. This article explains the major differences between current United States positive intellectual property law and the logical dictates of this original constitutional meaning. Additionally, the article asserts that the original meaning of clause 8 supports modern calls for a public-empowering First Amendment doctrine, as suggested by scholars such as Jack M. Balkin.
Keywords
intellecutal property,
public domain,
first amendment,
free speech,
constitution
Publication Date
June, 2004
Citation Information
Malla Pollack. "The Democratic Public Domain: Reconnecting the Modern First Amendment and the Original Progress Clause (a.k.a. Copyright and Patent Clause)"
Jurimetrics
Vol. 45 (2004)
Available at: http://works.bepress.com/malla_pollack/9/