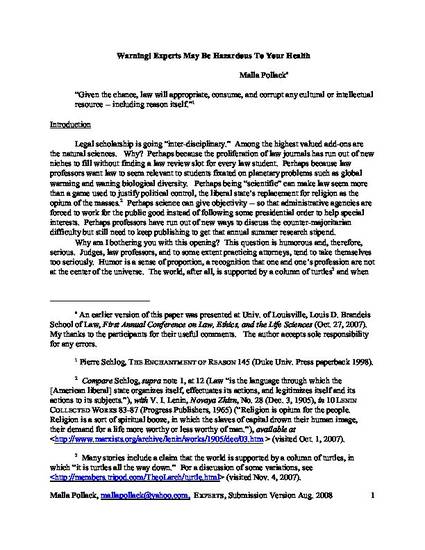 Article
Warning! Experts May Be Hazardous To Your Health
Dartmouth Law Journal (2008)
Abstract
The academy is now emphasizing inter-disciplinary scholarship and decision-making, especially the use of science to guide legal and political policy. This approach has many strengths, however, some caution is also appropriate. Using inter-disciplinary sources, this article discusses four inter-related problems with the scientific solution to social problems. First, and most central, science is about means, not ends. Second, expertise is often applied beyond its relevant field. Third, non-experts have difficulty judging competing experts. Fourth, experts' predictions are often wrong. The United States is presented as a horrible example of over-valuing expertise, specifically economic theory. In conditions of uncertainty, decision-makers are advised to prioritize people. Throughout, actors are reminded to keep a sense of proportion, i.e. is to recognize the humor of their own pretensions – Angels Can Fly Because They Take Themselves Lightly.
Keywords
interdisciplinary,
science,
knowledge,
governance
Citation Information
Malla Pollack. "Warning! Experts May Be Hazardous To Your Health"
Dartmouth Law Journal
Vol. 6 Iss. 3 (2008)
Available at: http://works.bepress.com/malla_pollack/42/