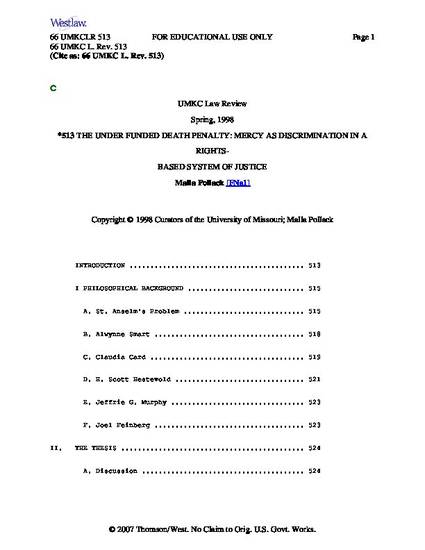 Article
The Underfunded Death Penalty: Mercy as Discrimination in a Rights Based System of Justice
UMKC L. Rev. (1998)
Abstract
This paper suggests that the relationship between justice and mercy is dependent on the system in which they are operating. [In a rights-based system, one where discrimination is forbidden, mercy is acceptable only when it is a subset of justice. Arbitrary mercy treating like cases in unlike fashion is moral only if individuals have no "right" to equal treatment, i.e., in a duty-based system. This paper begins with moral theory: part I briefly presents other recent philosophical treatments of mercy; part II states a philosophical "Thesis," illustrates it with the leading case of Queen v. Dudley, and explains why Dudley cannot be bodily transposed into a rights-based society. Turning to positive law in the United States, the paper tests several leading death-penalty cases (part III) and pardon jurisprudence (part IV) against the earlier philosophical conclusions and finds them wanting.
Keywords
death penalty,
mercy,
justice,
St. Anselm
Publication Date
June, 1998
Citation Information
Malla Pollack. "The Underfunded Death Penalty: Mercy as Discrimination in a Rights Based System of Justice"
UMKC L. Rev.
Vol. 66 (1998)
Available at: http://works.bepress.com/malla_pollack/17/