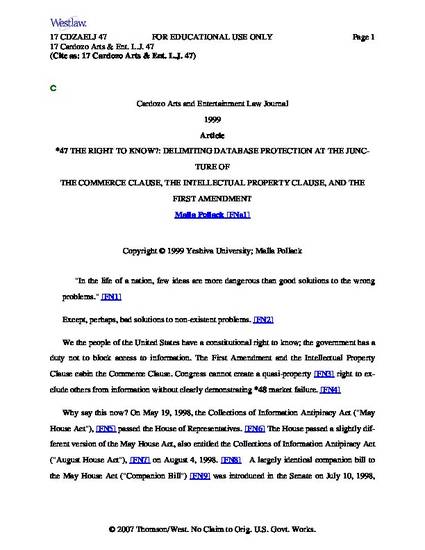 Article
The Right to Know?: Delimiting Database Protection at the Juncture of the Commerce Clause, the Intellectual Property Clause, and the First Amendment
Cardozo Arts & Ent. L.J. (1999)
Abstract
The people of the United States have a constitutional right to know; the government has a duty not to block access to information. The First Amendment and the Intellectual Property Clause cabin the Commerce Clause. Congress cannot create a quasi-property right to exclude others from information without clearly demonstrating market failure. Sui generis protection of data bases does not meet this threashold requirement.
Keywords
free speech,
copyright,
constitution,
database protection
Publication Date
August, 1999
Citation Information
Malla Pollack. "The Right to Know?: Delimiting Database Protection at the Juncture of the Commerce Clause, the Intellectual Property Clause, and the First Amendment"
Cardozo Arts & Ent. L.J.
Vol. 17 (1999)
Available at: http://works.bepress.com/malla_pollack/16/