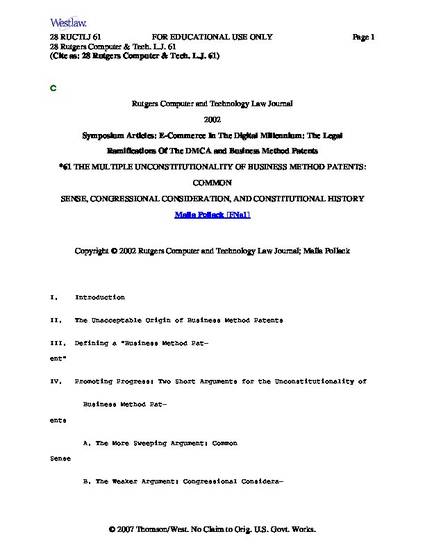 Article
The Multiple Unconstitutionality of Business Method Patents: Common Sense, Congressional Choice, and Constitutional History
Rutgers Computer & Tech. L.J. (2002)
Abstract
Business method patents are of sufficiently doubtful constitutionality that the Supreme Court should either render them void or, at the least, require a clear Congressional fact finding that they are likely to promote the "Progress of . . . [the] Useful Arts." Four separate arguments support this conclusion. First, common sense shows that patents on business methods do not promote progress. Second, Congress has not considered whether business method patents are likely to promote progress. Third, "useful arts," as that phrase is used in the Constitution, does not include mere commerce. Lastly, the historical background of the Intellectual Property Clause demonstrates that the ratifying generation would have considered business method patents abusive of the basic rights of Englishmen. The ratification background and the history of early patent practice also support argument three.
Keywords
patent,
patentable subject matter,
constitution
Publication Date
August, 2002
Citation Information
Malla Pollack. "The Multiple Unconstitutionality of Business Method Patents: Common Sense, Congressional Choice, and Constitutional History"
Rutgers Computer & Tech. L.J.
Vol. 28 (2002)
Available at: http://works.bepress.com/malla_pollack/12/