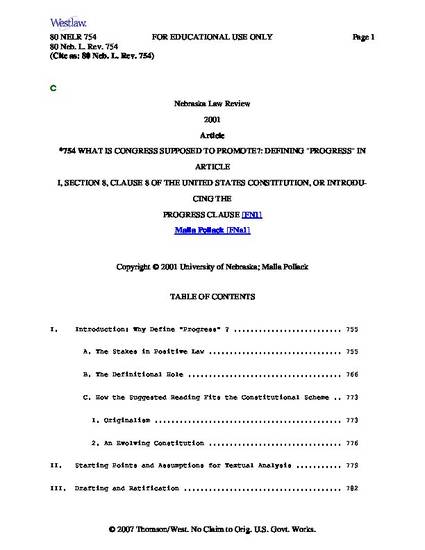 Article
What Is Congress Supposed to Promote? Defining 'Progress" in Article I, Section 8, Clause 8 of the U.S. Constitution, or Introducing the Progress Clause
Nebraska L. Rev. (2002)
Abstract
Empirical reserach into ratification-era uses of the word "progress" in the United States demonstrates that this word, as used in Article One, Section Eight, Clause Eight, means "spread," i.e. diffusion, distribution. To the extent that Congress chooses not to act under this clause, the default position is that each person in the United States has a property right not to be excluded from publicly accessible knowledge and technology. Congress has only a very limited power to create private quasi-property, i.e., rights to exclude the rest of the commoners. Congress may only create temporary individual rights for "authors" or "inventors" to exclude others from use of "their respective writings and discoveries" when such individual rights "promote" the spread of knowledge ("science") and technology ("useful arts").
Keywords
constitution,
intellecutal property,
public domain,
progress
Publication Date
October, 2002
Citation Information
Malla Pollack. "What Is Congress Supposed to Promote? Defining 'Progress" in Article I, Section 8, Clause 8 of the U.S. Constitution, or Introducing the Progress Clause"
Nebraska L. Rev.
Vol. 80 (2002)
Available at: http://works.bepress.com/malla_pollack/11/