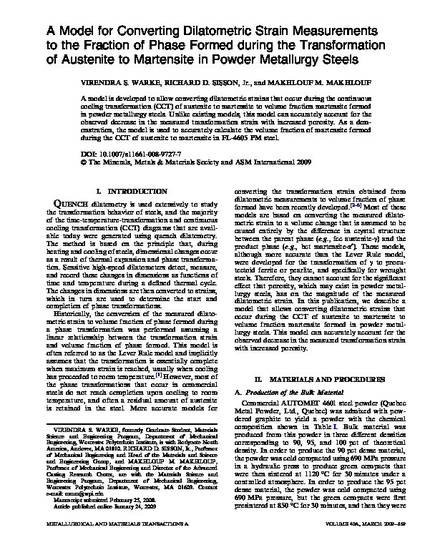 Article
A Model for Converting Dilatometric Strain Measurements to the Fraction of Phase Formed During the Transformation of Austenite to Martensite in Powder Metallurgy Steels
Metallurgical and Materials Transactions A-Physical Metallurgy and Materials Science
Publication Date
3-1-2009
Abstract
A model is developed to allow converting dilatometric strains that occur during the continuous cooling transformation (CCT) of austenite to martensite to volume fraction martensite formed in powder metallurgy steels. Unlike existing models, this model can accurately account for the observed decrease in the measured transformation strain with increased porosity. As a demonstration, the model is used to accurately calculate the volume fraction of martensite formed during the CCT of austenite to martensite in FL-4605 PM steel.
DOI
10.1007/s11661-008-9727-7
Publisher Statement
Copyright 2009, ASM International. This paper was published in Metallurgical and Materials Transactions A-Physical Metallurgy and Materials Science Vol. Iss. 3 pp. 569-572 and is made available as an electronic reprint with the permission of, ASM International. One print or electronic copy may be made for personal use only. Systematic or multiple reproduction, distribution to multiple locations via electronic or other means, duplications of any material in this paper for a fee or for commercial purposes, or modification of the content of this paper are prohibited.
Citation Information
Virendra S. Warke, Richard D. Sisson and Makhlouf M. Makhlouf. "A Model for Converting Dilatometric Strain Measurements to the Fraction of Phase Formed During the Transformation of Austenite to Martensite in Powder Metallurgy Steels"
Metallurgical and Materials Transactions A-Physical Metallurgy and Materials Science
Iss. 3 (2009) p. 569 - 572
Available at: http://works.bepress.com/makhlouf_makhlouf/4/