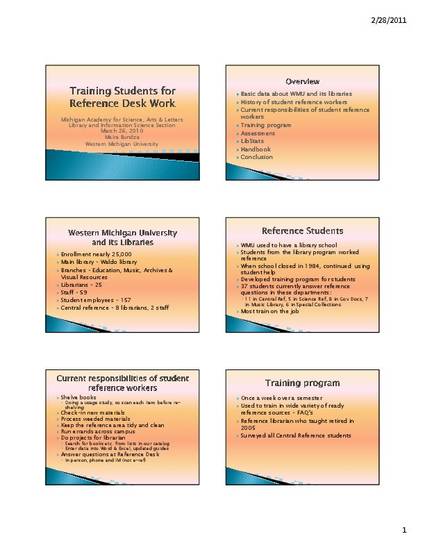 Presentation
Training Students for Reference Desk Work
Michigan Academy for Science, Arts & Letters (2010)
Abstract
Western Michigan University Libraries use student workers to answer reference questions at almost all of the reference points in the library system. The Central Reference Desk in Waldo Library is the most active reference point, with questions on a wide range of topics, and an extensive range of resources. The students working at the Central Reference Desk receive a twelve week training program and a handbook that covers the library collections, services, types of resources, and condensed subject guides for the most popular humanities and social sciences topics. This presentation will show how this training program has evolved over the years, what we cover in the training program, in the handbook, and how we assess the effectiveness of the training. Library Stats, an online tool for recording reference transactions, will be discussed as a method for gathering student answers. By evaluating these answers we can see where more training is needed.
Keywords
reference,
training,
student workers
Publication Date
March 26, 2010
Citation Information
Maira Bundza. "Training Students for Reference Desk Work"
Michigan Academy for Science, Arts & Letters
(2010)
Available at: http://works.bepress.com/maira_bundza/6/