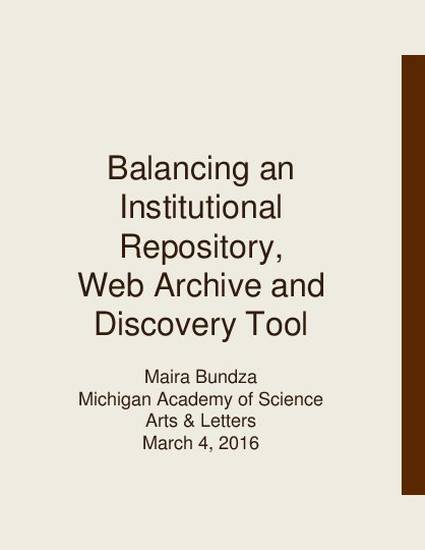 Presentation
Balancing an Institutional Repository, Web Archive and Discovery Tool
Michigan Academy of Science Arts & Letters (2016)
Abstract
Working with Western Michigan University's institutional repository, ScholarWorks, led to understanding the larger need for archiving the university website. Webmasters across the campus are providing access to numerous online documents reflecting the work of the university, but with constant website changes, much of this university documentation disappears. University-wide discussions quickly revealed that currently only the Libraries and Archives are sufficiently concerned about preserving this piece of WMU history to invest resources into it. We educated ourselves about Web archiving, signed an agreement with Archive-It, and at the beginning of 2016 the archives staff started harvesting the WMU site. In discussions about policies and guidelines, questions arose about what should be archived from the website versus what should be in the repository. WMU libraries recently implemented a new discovery tool - Primo, which can harvest records from various sources including the IR. A decision was made to harvest selectively from ScholarWorks with some items only represented in Primo with collection level records. Similar decisions are being made about the Web archiving. It is important to find a balance between preservation and accessibility in these three tools.
Publication Date
March 4, 2016
Location
Saginaw Valley State University
Citation Information
Maira Bundza. "Balancing an Institutional Repository, Web Archive and Discovery Tool"
Michigan Academy of Science Arts & Letters
(2016)
Available at: http://works.bepress.com/maira_bundza/52/