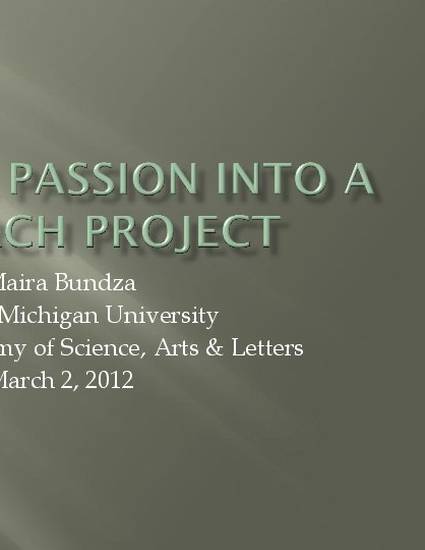 Presentation
Turning a Passion into a Research Project
Michigan Academy of Science, Arts & Letters (2012)
Abstract
As a Latvian-American I became interested in librarianship when assigned to set up a library at the Latvian Studies Center in Kalamazoo. The library was dispersed after Latvia regained its independence, and I started working at Western Michigan University. I have recently turned my research focus back to my ethnic heritage and am excited to be able to combine my professional skills with my passion. I have started looking at not only Latvian, but Estonian and Lithuanian collections in the U.S. As the communities age, what is happening to their libraries, archives and museums? As the information world turns digital, what is available in online catalogs and databases? How much is being digitized in the Baltic countries themselves and in the diaspora communities? I have been visiting Estonian, Latvian and Lithuanian collections around the country and participated in a Lithuanian Archive conference. This session will be a report of my findings to date, before I visit the libraries and archives in the Baltic countries themselves.
Keywords
Baltic,
research,
Estonian,
Latvian,
Lithuanian,
libraries,
archives
Publication Date
March 1, 2012
Citation Information
Maira Bundza. "Turning a Passion into a Research Project"
Michigan Academy of Science, Arts & Letters
(2012)
Available at: http://works.bepress.com/maira_bundza/24/