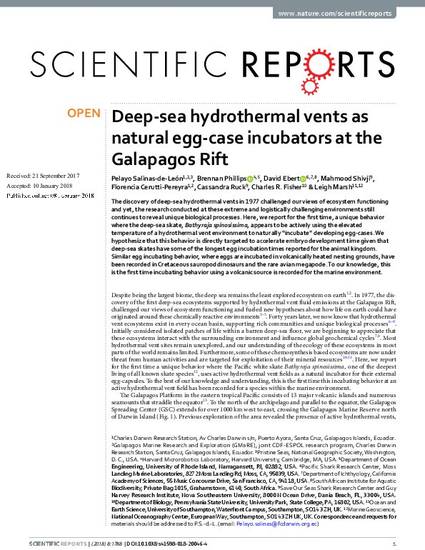 Article
Deep-Sea Hydrothermal Vents as Natural Egg-Case Incubators at the Galapagos Rift
Scientific Reports
Publication Date
2-8-2018
Keywords
Behavioural ecology; Biooceanography
Abstract
The discovery of deep-sea hydrothermal vents in 1977 challenged our views of ecosystem functioning and yet, the research conducted at these extreme and logistically challenging environments still continues to reveal unique biological processes. Here, we report for the first time, a unique behavior where the deep-sea skate, Bathyraja spinosissima, appears to be actively using the elevated temperature of a hydrothermal vent environment to naturally "incubate" developing egg-cases. We hypothesize that this behavior is directly targeted to accelerate embryo development time given that deep-sea skates have some of the longest egg incubation times reported for the animal kingdom. Similar egg incubating behavior, where eggs are incubated in volcanically heated nesting grounds, have been recorded in Cretaceous sauropod dinosaurs and the rare avian megapode. To our knowledge, this is the first time incubating behavior using a volcanic source is recorded for the marine environment.
ORCID ID
0000-0002-5655-7276
ResearcherID
G-4080-2013, A-9653-2015
DOI
10.1038/s41598-018-20046-4
Citation Information
Pelayo Salinas-de-Leon, Brennan Phillips, David A. Ebert, Mahmood S Shivji, et al.. "Deep-Sea Hydrothermal Vents as Natural Egg-Case Incubators at the Galapagos Rift"
Scientific Reports
Vol. 8 Iss. 1788 (2018) p. 1 - 7 ISSN: 2045-2322
Available at: http://works.bepress.com/mahmood-shivji/158/