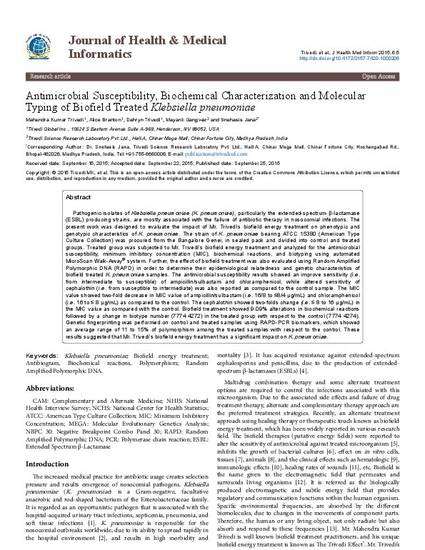 Dataset
Antimicrobial Susceptibility, Biochemical Characterization and Molecular Typing of Biofield Treated Klebsiella pneumoniae
(2015)
Description
The increased medical practice for antibiotic usage creates selection pressure and results emergence of nosocomial pathogens. Klebsiella pneumoniae (K. pneumoniae ) is a Gram-negative, facultative anaerobic and rod-shaped bacterium of the Enterobacteriaceae family. It is regarded as an opportunistic pathogen that is associated with the hospital-acquired urinary tract infections, septicemia, pneumonia, and soft tissue infections [1]. K. pneumoniae is responsible for the nosocomial outbreaks worldwide, due to its ability to spread rapidly in the hospital environment [2], and results in high morbidity and mortality [3]. It has acquired resistance against extended-spectrum cephalosporins and penicillins, due to the production of extendedspectrum β-lactamases (ESBLs) [4]. Multidrug combination therapy and some alternate treatment options are required to control the infections associated with this microorganism. Due to the associated side effects and failure of drug treatment therapy, alternate and complementary therapy approach are the preferred treatment strategies. Recently, an alternate treatment approach using healing therapy or therapeutic touch known as biofield energy treatment, which has been widely reported in various research field. The biofield therapies (putative energy fields) were reported to alter the sensitivity of antimicrobial against treated microorganism [5], inhibits the growth of bacterial cultures [6], effect on in vitro cells, tissues [7], animals [8], and the clinical effects such as hematologic [9], immunologic effects [10], healing rates of wounds [11], etc. Biofield is the name given to the electromagnetic field that permeates and surrounds living organisms [12]. It is referred as the biologically produced electromagnetic and subtle energy field that provides regulatory and communication functions within the human organism. Specific environmental frequencies, are absorbed by the different biomolecules, due to changes in the movements of component parts. Therefore, the human or any living object, not only radiate but also absorb and respond to these frequencies [13]. Mr. Mahendra Kumar Trivedi is well known biofield treatment practitioners, and his unique biofield energy treatment is known as The Trivedi Effect®. Mr. Trivedi's biofield energy treatment has been well known and studied in the field of materials science research [14-16], agricultural science research [17,18], and microbiology research [19,20]. Due to the clinical importance of K. pneumoniae and outstanding results of biofield treatment, the present study was designed to evaluate the impact of Mr. Trivedi's biofield energy treatment on K. pneumoniae with respect to the antimicrobial susceptibility, biochemical study, and biotype number. Further, in order to study the phenotypic characteristics of biofield treated K. pneumoniae , molecular typing using arbitrary amplification of polymorphic DNA sequences, termed as random amplified polymorphic DNA (RAPD) analysis was used [21]. RAPD is a preferred technique used in different studies for typing and discriminating the epidemiology of microorganism [22]. RAPD has an advantage over other traditional phenotypic typing methods as it is rapid, relatively inexpensive and technically feasible [23]. The aim of this study was to evaluate the impact of Mr. Trivedi's biofield energy treatment on K. pneumoniae with respect to antibiogram characteristics and genotyping using RAPD of the organism.
Keywords
Biochemical Reactions,
Mahendra Kumar Trivedi,
Trivedi Effect,
Biofield Energy,
Biofield Treatment,
Biofield Science,
Biofield Therepy,
Biofield,
Antibiogram,
Klebsiella Pneumoniae
Publication Date
Spring September 25, 2015
DOI
10.4172/2157-7420.1000206
Citation Information
Trivedi MK, Branton A, Trivedi D, Gangwar M, Jana S (2015) Antimicrobial Susceptibility, Biochemical Characterization and Molecular Typing of Biofield Treated Klebsiella pneumoniae. J Health Med Inform 6: 206. doi:10.4172/2157-7420.1000206
Creative Commons license
This work is licensed under a Creative Commons CC_BY-NC-SA International License.