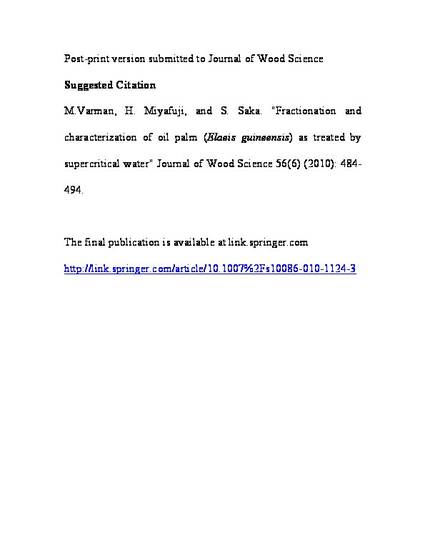 Article
Fractionation and characterization of oil palm (Elaeis guineensis) as treated by supercritical water
Journal of Wood Science (2010)
Abstract
In order to investigate the potential for efficient utilization of oil palm (Elaeis guineensis), supercritical water treatment (at 380°C and 100 MPa for 8 s) was applied to fractionate extractives-free samples into water-soluble portion and water-insoluble portion. The water-insoluble portion was further fractionated into methanol-soluble portion and methanol-insoluble residue. Samples were prepared from various parts of oil palm, i.e., trunks, fronds, mesocarp fibers, shells, empty fruit bunches, and kernel cake. These fractionated products were then characterized analytically. The water-soluble and methanol-soluble portions were determined to be mainly composed of carbohydrate-derived products and lignin-derived products, respectively. The methanol-insoluble residue was mainly composed of lignin (more than 84 wt%) and the phenolic hydroxyl contents determined by the aminolysis method was higher than for untreated oil palm samples. In addition, an alkaline nitrobenzene oxidation analysis indicated that the methanol-insoluble residue contained fewer oxidation products than untreated samples did. These findings imply that the water-soluble portion could be utilized for organic acid production, whereas the methanol-soluble portion and the insoluble residue could be used for the production of phenolic chemicals.
Keywords
Oil palm,
Supercritical water treatment,
Carbohydrate-derived products,
Lignin-derived products,
Lignin,
Phenolic hydroxyl content,
Alkaline nitrobenzene oxidation
Citation Information
Mahendra Varman Munusamy, H. Miyafuji and S. Saka. "Fractionation and characterization of oil palm (Elaeis guineensis) as treated by supercritical water"
Journal of Wood Science
Vol. 56 Iss. 6 (2010)
Available at: http://works.bepress.com/mahendra/4/