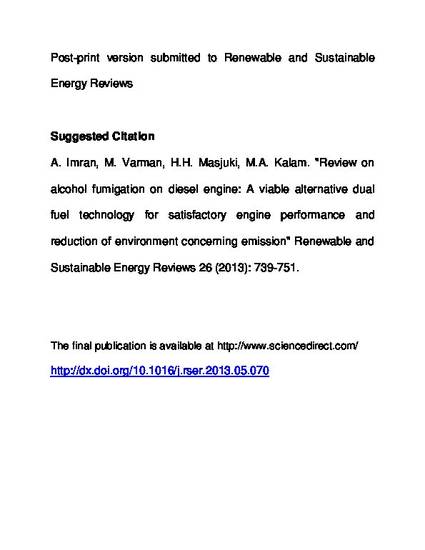 Article
Review on alcohol fumigation on diesel engine: A viable alternative dual fuel technology for satisfactory engine performance and reduction of environment concerning emission
Renewable and Sustainable Energy Reviews (2013)
Abstract
Fossil fuels are the most imperative parameters to flourish the every sphere of modern civilization including industrial development, transportation, power generation and easing the accomplishment of works. The rapid increase in usage of fossil fuel has unavoidable deleterious effect on environment. The international consciousness for environment protection is growing and ever more strict emission legislations are being enacted. Simultaneously the storage of fossil fuel is depleting. Hence, the above situations promote the scientists to find alternative sustainable fuels along with their suitable using technique which will reduce the pollutant emission and will be applicable for gaining satisfactory engine performance. In these perspectives, alcohol fumigation is getting high demand as an effective measure to reduce pollutant emission from diesel engine vehicles. Alcohol fumigation is a dual fuel engine operation technique in which alcohol fuels are premixed with intake air. The aim of this paper is to identify the potential use of alcohols in fumigation mode on diesel engine. In this literature review, the effect of ethanol and methanol fumigation on engine performance and emission of diesel engine has been critically analyzed. A variety of fumigation ratios from 5% to 40% have been applied in different types of engines with various types of operational mode. It has been found that the application of alcohol fumigation technique leads to a significant reduction in the more environment concerning emissions of carbon dioxide (CO₂) up to 7.2%, oxides of nitrogen (NOx) up to 20% and particulate matter (PM) up to 57%. However, increase in carbon monoxide (CO) and hydrocarbon (HC) emission have been found after use of alcohol fumigation. Alcohol fumigation also increases the BSFC due to having higher heat of vaporization. Brake thermal efficiency decreases at low engine load and increases at higher engine load.
Keywords
Alcohol,
Fumigation,
Dual fuel,
Alternative fuel,
Diesel engine Performance; Emission
Citation Information
A. Imran, Mahendra Varman Munusamy, H.H. Masjuki and M.A. Kalam. "Review on alcohol fumigation on diesel engine: A viable alternative dual fuel technology for satisfactory engine performance and reduction of environment concerning emission"
Renewable and Sustainable Energy Reviews
Vol. 26 (2013)
Available at: http://works.bepress.com/mahendra/12/