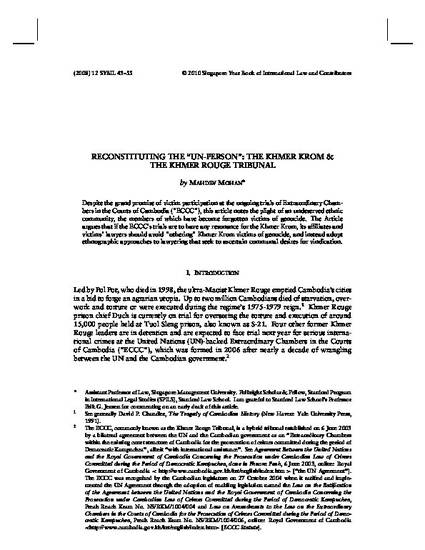 Article
RECONSTITUTING THE "UN-PERSON": THE KHMER KROM &THE KHMER ROUGE TRIBUNAL
Singapore Year Book of International Law and Contributors
Publication Type
Book Chapter
Abstract
Despite the grand promise of victim participation at the ongoing trials of Extraordinary Chambers in the Courts of Cambodia ("ECCC"), this article notes the plight of an undeserved ethnic community, the members of which have become forgotten victims of genocide. The Article argues that if the ECCC's trials are to have any resonance for the Khmer Krom, its affiliates and victims' lawyers should avoid "othering" Khmer Krom victims of genocide, and instead adopt ethnographic approaches to lawyering that seek to ascertain communal desires for vindication.
Creative Commons License
Creative Commons Attribution-Noncommercial-No Derivative Works 4.0
Citation Information
Mahdev MOHAN. "RECONSTITUTING THE "UN-PERSON": THE KHMER KROM &THE KHMER ROUGE TRIBUNAL"
Singapore Year Book of International Law and Contributors
(2010)
Available at: http://works.bepress.com/mahdev_mohan/13/