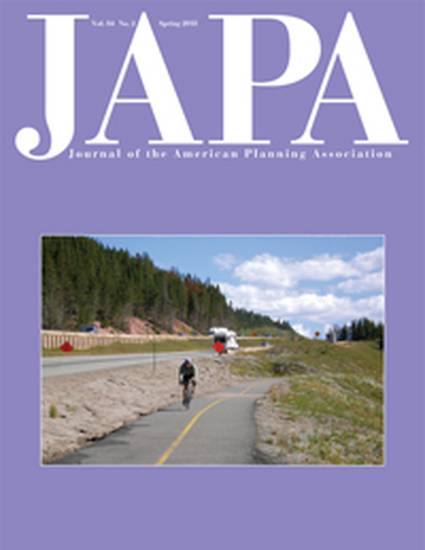 Article
Regulatory Practices of Urban Agriculture: A Connection to Planning and Policy
Journal of the American Planning Association (2017)
Abstract
Problem, research strategy, and findings: Municipalities across the United States are gradually recognizing urban agriculture as an integral part of planning, land use, and zoning ordinances. We review the literature on the regulation of urban agriculture at a moment when policy and regulatory vacuums exist and the acceptance and integration of urban agriculture is uneven. We review the current regulatory practices of 40 metropolitan and 40 micropolitan municipalities in the 4 U.S. Census regions. We find that municipalities are filling policy vacuums by adopting enabling ordinances (zoning ordinances, land use designations, resolutions), regulations on urban agriculture production (backyard animals, built structures, practitioner responsibility), and fiscal policy instruments (restrictions on sales of agricultural products, tax abatement, urban agriculture fees). Our findings support local planning practitioners in filling regulatory gaps, practitioners of urban agriculture in seeking how it's done elsewhere, and researchers in discerning new applied and basic research projects. We identify 3 principal knowledge gaps: Planners need a complete typology of regulatory possibilities; a better understanding of how local, state, and federal legislations constrain or enable urban agriculture; and empirical evidence of the economic, social, and environmental impacts of urban agriculture.
Takeaway for practice: Planners should assess existing urban agricultural practices and consider which regulatory frameworks best support multiple local goals, incorporating a concern with urban agriculture into ongoing activities, deploying existing or innovative land use tools, facilitating institutional cooperation, and promoting inclusive decision making and community engagement.
Keywords
land use planning,
public policy,
regulation,
urban agriculture,
zoning
Publication Date
October 12, 2017
DOI
10.1080/01944363.2017.1369359
Citation Information
Mahbubur R. Meenar, Alfonso Morales and Leonard Bonarek. "Regulatory Practices of Urban Agriculture: A Connection to Planning and Policy"
Journal of the American Planning Association
Vol. 83 Iss. 4 (2017) p. 389 - 403 ISSN: 1939-0130
Available at: http://works.bepress.com/mahbubur-meenar/64/