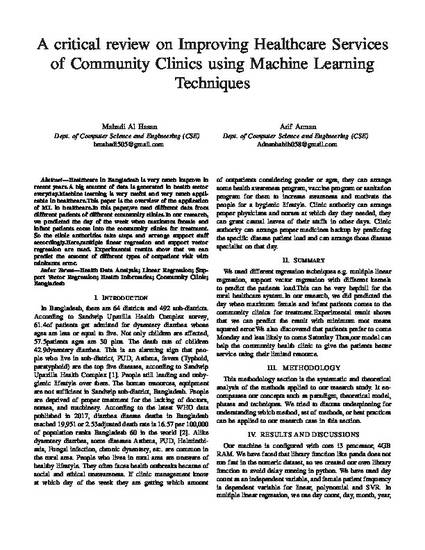 Unpublished Paper
mahadi2.pdf
(2019)
Abstract
Healthcare in Bangladesh is very much improve in
recent years.A big amount of data is generated in health sector
everyday.Machine learning is very useful and very much appli-
cable in healthcare.This paper is the overview of the application
of ML in healthcare.In this paper,we used different data from
different patients of different community clinics.In our research,
we predicted the day of the week when maximum female and
infant patients come into the community clinics for treatment.
So the clinic authorities take steps and arrange support staff
accordingly.Here,multiple linear regression and support vector
regression are used. Experimental results show that we can
predict the amount of different types of outpatient visit with
minimum error.
Keywords
research,
Health Data Analysis
Publication Date
Spring October 22, 2019
Citation Information
mahadi hasan. "mahadi2.pdf" (2019)
Available at: http://works.bepress.com/mahadi-hasan/1/
Creative Commons License
This work is licensed under a Creative Commons CC_BY International License.