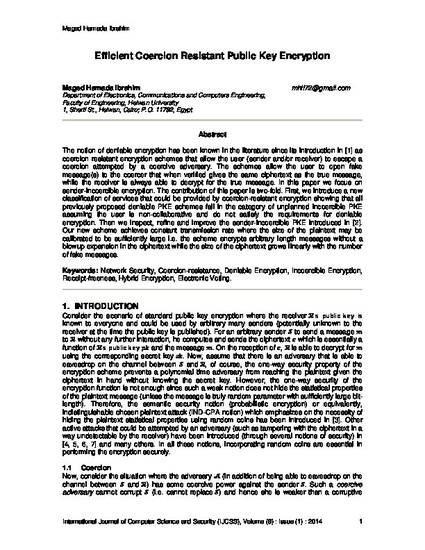 Article
Efficient Coercion Resistant Public Key Encryption
International Journal of Computer Science and Security (2014)
Abstract
The notion of deniable encryption has been known in the literature since its introduction in [1] as coercion resistant encryption schemes that allow the user (sender and/or receiver) to escape a coercion attempted by a coercive adversary. The schemes allow the user to open fake message(s) to the coercer that when verified gives the same ciphertext as the true message, while the receiver is always able to decrypt for the true message. In this paper we focus on sender-incoercible encryption. The contribution of this paper is two-fold. First, we introduce a new classification of services that could be provided by coercion-resistant encryption showing that all previously proposed deniable PKE schemes fall in the category of unplanned incoercible PKE assuming the user is non-collaborative and do not satisfy the requirements for deniable encryption. Then we inspect, refine and improve the sender-incoercible PKE introduced in [2]. Our new scheme achieves constant transmission rate where the size of the plaintext may be calibrated to be sufficiently large i.e. the scheme encrypts arbitrary length messages without a blowup expansion in the ciphertext while the size of the ciphertext grows linearly with the number of fake messages.
Keywords
Network Security,
Coercion-resistance,
Deniable Encryption,
Incoercible Encryption,
Receipt-freeness,
Hybrid Encryption,
Electronic Voting
Citation Information
Maged Ibrahim. "Efficient Coercion Resistant Public Key Encryption"
International Journal of Computer Science and Security
Vol. 8 Iss. 1 (2014) p. 1 - 13
Available at: http://works.bepress.com/maged-hamada-ibrahim/9/