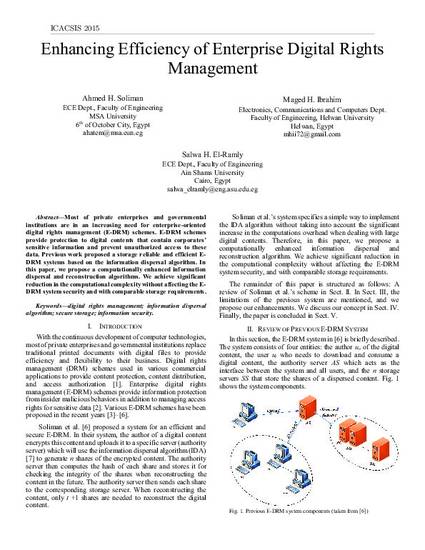 Article
Enhancing Efficiency of Enterprise Digital Rights Management
2015 International Conference on Advanced Computer Science and Information Systems (ICACSIS) Date of Conference: (2015)
Abstract
Most of private enterprises and governmental institutions are in an increasing need for enterprise-oriented digital rights management (E-DRM) schemes. E-DRM schemes provide protection to digital contents that contain corporates' sensitive information and prevent unauthorized access to these data. Previous work proposed a storage reliable and efficient E- DRM systems based on the information dispersal algorithm. In this paper, we propose a computationally enhanced information dispersal and reconstruction algorithms. We achieve significant reduction in the computational complexity without affecting the E- DRM system security and with comparable storage requirements.
Publication Date
October 11, 2015
DOI
10.1109/ICACSIS.2015.7415190
Citation Information
Ahmed Soliman, Maged Ibrahim and Salwa El-Ramli. "Enhancing Efficiency of Enterprise Digital Rights Management"
2015 International Conference on Advanced Computer Science and Information Systems (ICACSIS) Date of Conference:
(2015) p. 91 - 96
Available at: http://works.bepress.com/maged-hamada-ibrahim/2/