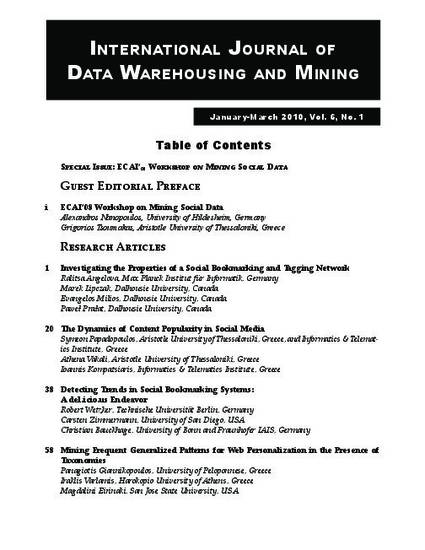 Article
Mining Frequent Generalized Patterns for Web Personalization in the presence of Taxonomies
International Journal of Data Warehousing and Mining (2010)
Abstract
The Web is a continuously evolving environment, since its content is updated on a regular basis. As a result, the traditional usage-based approach to generate recommendations that takes as input the navigation paths recorded on the Web page level, is not as effective. Moreover, most of the content available online is either explicitly or implicitly characterized by a set of categories organized in a taxonomy, allowing the page-level navigation patterns to be generalized to a higher, aggregate level. In this direction, the authors present the Frequent Generalized Pattern (FGP) algorithm. FGP takes as input the transaction data and a hierarchy of categories and produces generalized association rules that contain transaction items and/or item categories. The results can be used to generate association rules and subsequently recommendations for the users. The algorithm can be applied to the log files of a typical Web site; however, it can be more helpful in a Web 2.0 application, such as a feed aggregator or a digital library mediator, where content is semantically annotated and the taxonomic nature is more complex, requiring us to extend FGP in a version called FGP+. The authors experimentally evaluate both algorithms using Web log data collected from a newspaper Web site.
Citation Information
Panagiotis Giannikopoulos, Iraklis Varlamis and Magdalini Eirinaki. "Mining Frequent Generalized Patterns for Web Personalization in the presence of Taxonomies"
International Journal of Data Warehousing and Mining
Vol. 6 Iss. 1 (2010)
Available at: http://works.bepress.com/magdalini_eirinaki/2/