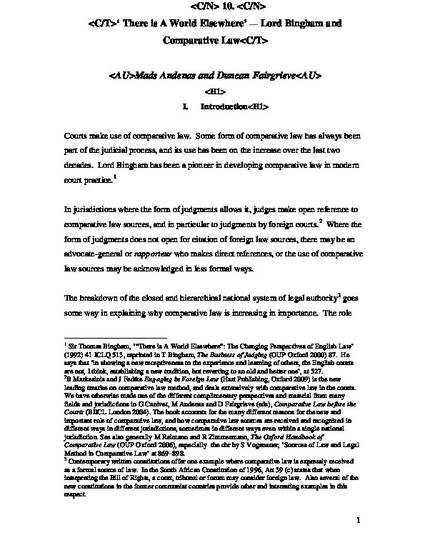 Contribution to Book
' There is A World Elsewhere' — Lord Bingham and Comparative Law
Tom Bingham and the Transformation of the Law (2009)
Abstract
In this article we look at the dialogues between different national and international courts. An international market place for judgments is emerging, where also the form and style of judgments may be influenced by the increased use of comparative law.
Comparative law plays a role in resolving fundamental issues such as the relationship between national and international law, in implementing international and European human rights law, in developing constitutional review, in review of administrative action, and in developing effective remedies. Comparative law also plays a role in developing the substantive law in different areas, including in finding normative solutions to questions of a more technical kind. One can hardly expect always to find the ideal solutions to problems of globalisation within one's own jurisdiction. Nonetheless, there is still disagreement on when comparative law can be invoked, where it is convenient to do so, and how it should be done.
Similar questions are posed to courts in jurisdictions across the world, but there is much variation in the solutions found. For instance, some courts still find that the autonomy of their legal system prevents them from expressly acknowledging the use of foreign judgments. This is one of the issues where there has been a rapid development in the practice of courts, including the French courts, the Italian Corte di cassazione, the International Court of Justice and the European Court of Justice, which in different ways have relaxed the restrictions on citing judgments by courts from other jurisdictions.
Our discussion of the cases and typology of current applications of comparative law will illustrate the methodological problems of the use of comparative law in the courts. There are cases which reflect a general recognition of comparative law as a persuasive authority or source of law, which apply normative models from other jurisdictions where national law is undetermined, and which use comparative law in reviewing factual assumptions about the consequences of legal rules, or assumptions about the universal applicability of rules or principles.
Comparative law has been seen to provide courts with persuasive and non binding arguments. At the current stage, there is an argument about the consequences of a call for more consistency. One question is if courts are ever bound to make use of comparative law sources, for instance in certain situations when an authority is based on comparative law sources.
Comparative law is becoming a practical academic discipline. The role of academic scholarship, and its response to the developments in practice, is another issue we return to towards the end.
Keywords
international and foreign law before courts,
dialogues between courts,
form of judgment,
market place of judgments
Editor
M Andenas and D Fairgrieve
Publisher
Oxford University Press
Citation Information
Mads Andenas and Duncan Fairgrieve. "' There is A World Elsewhere' — Lord Bingham and Comparative Law" Oxford
Tom Bingham and the Transformation of the Law
(2009)
Available at: http://works.bepress.com/mads_andenas/5/