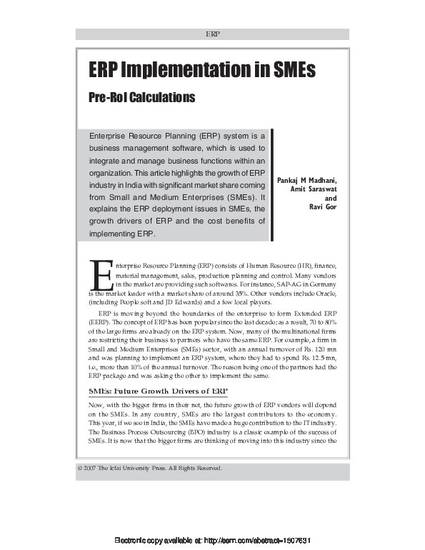 Article
ERP Implementation in SMEs: Pre-ROI Calculations
E-Business (2007)
Abstract
Enterprise Resource Planning (ERP) system is a business management software, which is used to integrate and manage business functions within an organization. This article highlights the growth of ERP industry in India with significant market share coming from Small and Medium Enterprises (SMEs). It explains the ERP deployment issues in SMEs, the growth drivers of ERP and the cost benefits of implementing ERP.
Publication Date
December 1, 2007
Citation Information
Madhani, Pankaj, Saraswat, Amit and Gor, Ravi. "ERP Implementation in SMEs: Pre-ROI Calculations"
E-Business
, October 2007, pp 37-44.