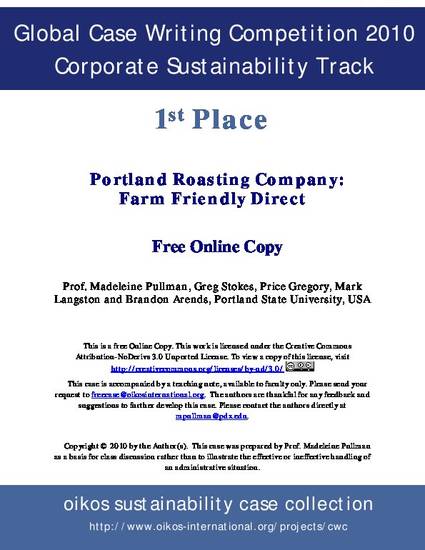 Article
Portland Roasting Company: Farm Friendly Direct
oikos free case collection
Sponsor
This case study, sponsored by the Center for Global Leadership in Sustainability at Portland State University
Publication Date
1-1-2010
Subjects
Coffee industry -- Developing countries,
Fair trade foods -- Social aspects -- Developing countries
Abstract
This case describes the issues and dilemmas facing a company in their efforts to differentiate their product through a social sustainability programme. Over the years, the company has built a strong reputation with their sustainability efforts, particularly amongst their peers in the specialty coffee industry. There is some question as to whether this reputation has been visible to consumers and if consumers see the value-proposition. The case covers the history of coffee, the specialty coffee industry, the supply chain and roles of different participants, and the competitive landscape.
Furthermore, most of the competitive eco-labels and certification schemes are discussed. The reader is asked to decide the appropriate method for conveying the company's social sustainability efforts to the marketplace and beyond that, to consider how one might measure and monitor social programs in the developing world. The case is designed to highlight decisions related to marketing and operations strategy, pros and cons of certification, and particularly social sustainability versus the other aspects of sustainability.
Persistent Identifier
http://archives.pdx.edu/ds/psu/15645
Citation Information
Madeleine E. Pullman, Brandon Arends, Mark Langston, Greg Price, et al.. "Portland Roasting Company: Farm Friendly Direct"
oikos free case collection
(2010)
Available at: http://works.bepress.com/madeleine_pullman/42/