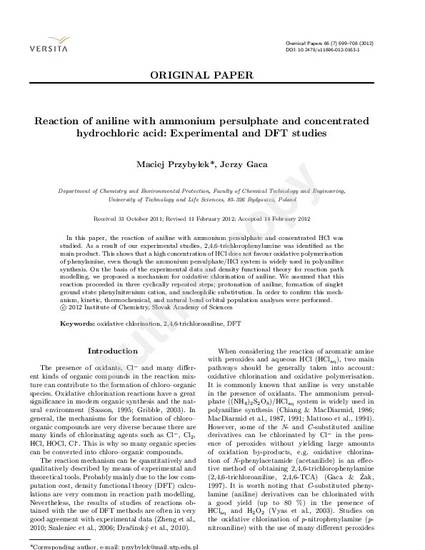 Article
Reaction of aniline with ammonium persulphate and concentrated hydrochloric acid: Experimental and DFT studies
Chemical Papers (2012)
Abstract
In this paper, the reaction of aniline with ammonium persulphate and concentrated HCl was studied. As a result of our experimental studies, 2,4,6-trichlorophenylamine was identified as the main product. This shows that a high concentration of HCl does not favour oxidative polymerisation of phenylamine, even though the ammonium persulphate/HCl system is widely used in polyaniline synthesis. On the basis of the experimental data and density functional theory for reaction path modelling, we proposed a mechanism for oxidative chlorination of aniline. We assumed that this reaction proceeded in three cyclically repeated steps; protonation of aniline, formation of singlet ground state phenylnitrenium cation, and nucleophilic substitution. In order to confirm this mechanism, kinetic, thermochemical, and natural bond orbital population analyses were performed.
Keywords
oxidative chlorination,
trichloroaniline,
DFT,
Reaction mechanisms,
Oxidation,
Chlorination,
Aniline,
Polyaniline synthesis,
ammonium persulphate,
hydrochloric acid
DOI
10.2478/s11696-012-0163-1
Citation Information
Maciej Przybyłek and Jerzy Gaca. "Reaction of aniline with ammonium persulphate and concentrated hydrochloric acid: Experimental and DFT studies"
Chemical Papers
Vol. 66 Iss. 7 (2012) p. 699 - 708
Available at: http://works.bepress.com/maciej-przybyek/20/