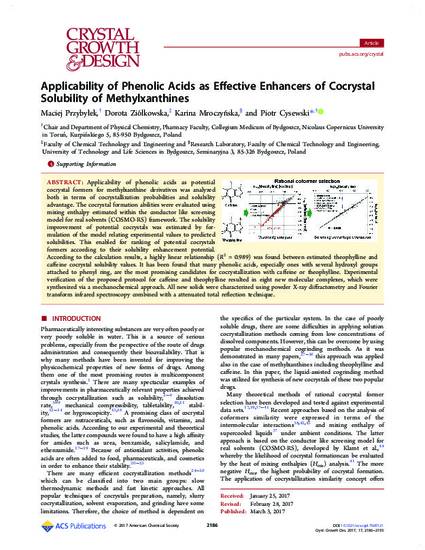 Article
Applicability of Phenolic Acids as Effective Enhancers of Cocrystal Solubility of Methylxanthines
Crystal Growth & Design (2017)
Abstract
Applicability of phenolic acids as potential cocrystal formers for methylxanthine derivatives was analyzed both in terms of cocrystallization probabilities and solubility advantage. The cocrystal formation abilities were evaluated using mixing enthalpy estimated within the conductor like screening model for real solvents (COSMO-RS) framework. The solubility improvement of potential cocrystals was estimated by formulation of the model relating experimental values to predicted solubilities. This enabled for ranking of potential cocrystals formers according to their solubility enhancement potential. According to the calculation results, a highly linear relationship (R2 = 0.989) was found between estimated theophylline and caffeine cocrystal solubility values. It has been found that many phenolic acids, especially ones with several hydroxyl groups attached to phenyl ring, are the most promising candidates for cocrystallization with caffeine or theophylline. Experimental verification of the proposed protocol for caffeine and theophylline resulted in eight new molecular complexes, which were synthesized via a mechanochemical approach. All new solids were characterized using powder X-ray diffractometry and Fourier transform infrared spectroscopy combined with a attenuated total reflection technique.
Keywords
Cocrystal Screening,
COSMO-RS,
Pharmaceutical Cocrystals,
Theophylline,
Caffeine,
Phenolic acids,
Solubility,
Methylxanthines
DOI
10.1021/acs.cgd.7b00121
Citation Information
Maciej Przybyłek, Dorota Ziółkowska, Karina Mroczyńska and Piotr Cysewski. "Applicability of Phenolic Acids as Effective Enhancers of Cocrystal Solubility of Methylxanthines"
Crystal Growth & Design
Vol. 17 Iss. 4 (2017) p. 2186 - 2193
Available at: http://works.bepress.com/maciej-przybyek/12/