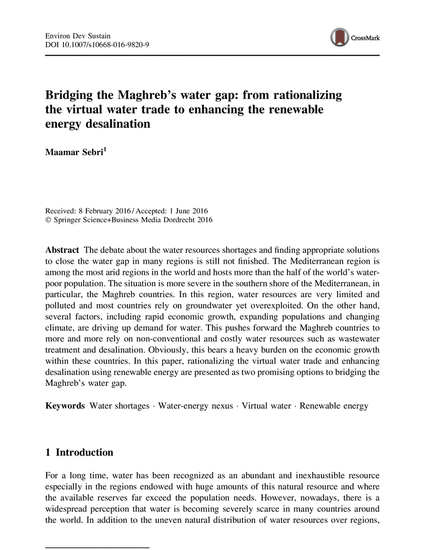 Article
Bridging the Maghreb's water gap: from rationalizing the virtual water trade to enhancing the renewable energy desalination
Environment, Development and Sustainability (2016)
Abstract
The debate about the water resources shortages and finding appropriate solutions to close the water gap in many regions is still not finished. The Mediterranean region is among the most arid regions in the world and hosts more than the half of the world's water-poor population. The situation is more severe in the southern shore of the Mediterranean, in particular, the Maghreb countries. In this region, water resources are very limited and polluted and most countries rely on groundwater yet overexploited. On the other hand, several factors, including rapid economic growth, expanding populations and changing climate, are driving up demand for water. This pushes forward the Maghreb countries to more and more rely on non-conventional and costly water resources such as wastewater treatment and desalination. Obviously, this bears a heavy burden on the economic growth within these countries. In this paper, rationalizing the virtual water trade and enhancing desalination using renewable energy are presented as two promising options to bridging the Maghreb's water gap.
Keywords
water shortages,
water-energy nexus,
virtual water,
renewable energy
Publication Date
Summer June 9, 2016
Citation Information
Maamar Sebri. "Bridging the Maghreb's water gap: from rationalizing the virtual water trade to enhancing the renewable energy desalination"
Environment, Development and Sustainability
(2016)
Available at: http://works.bepress.com/maamar_sebri/18/