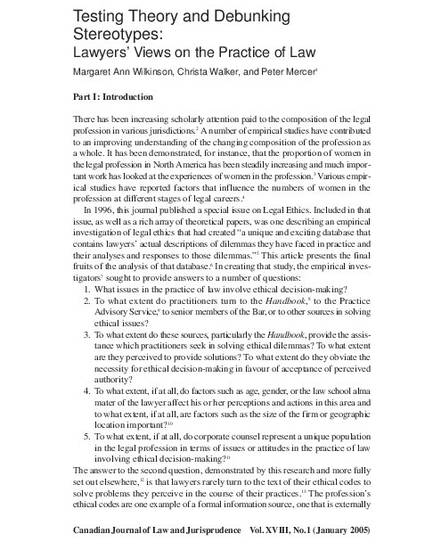 Article
Testing Theory and Debunking Stereotypes: Lawyers' Views on the Practice of Law
Canadian Journal of Law and Jurisprudence
Publication Date
1-1-2005
Abstract
This article is the final report of a study of legal ethics and professionalism involving in depth interviews about problem solving conducted with nearly two hundred lawyers practicing in various settings: in different sizes of firms, in different sizes of communities, in private practice and in in-house or corporate counsel positions. Previously published findings of this research project having established that lawyers rarely turn to their ethical codes to solve problems, preferring instead to rely upon informal information gleaned from within their own offices (although lawyers from smaller firms remain more often comfortable with information drawn from beyond the firm than those from larger firms), this article focuses on analysis of the interviews of those lawyers who identified themselves as concerned with issues involving their roles as lawyers. The analysis maps the lawyers' own descriptions of their situations onto the "hired gun" and "counselor" models of lawyer-client interaction taken from the literature. The findings confirm our preliminary findings that these two roles are not mutually exclusive. Although all the lawyers concerned with their roles began in a mentoring mode, most lawyers eventually relinquished their decision-making to their clients, a transition fraught with challenges for many of them. A minority, however, despite the dictates of their code of ethics, withdrew from cases or even, exceptionally, substituted their own decision-making for that of their clients. The article links the mentoring model to the care perspective in the literature of moral development and the hired gun model to the rights perspective. The findings did not establish any support for the claim that the presence of women is creating a "softer" voice in the legal profession. However, two aspects of the structure of the profession, private practice versus in-house practice and the size of the centre in which the practice is located, engendered variations in professional attitudes.
Citation Information
Margaret Ann Wilkinson, Christina Walker and Peter Mercer. "Testing Theory and Debunking Stereotypes: Lawyers' Views on the Practice of Law"
Canadian Journal of Law and Jurisprudence
Vol. 18 Iss. 1 (2005) p. 165 - 201
Available at: http://works.bepress.com/ma_wilkinson/23/