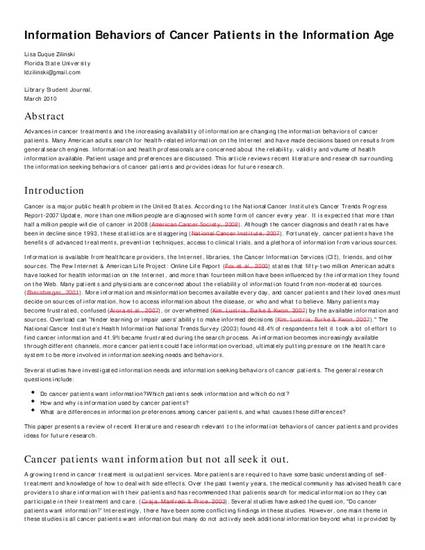 Article
Information Behaviors of Cancer Patients in the Information Age
Library Student Journal (2010)
Abstract
Advances in cancer treatments and the increasing availability of information are changing the information behaviors of cancer patients. Many American adults search for health-related information on the Internet and have made decisions based on results from general search engines. Information and health professionals are concerned about the reliability, validity and volume of health information available. Patient usage and preferences are discussed. This article reviews recent literature and research surrounding the information seeking behaviors of cancer patients and provides ideas for future research.
Citation Information
Lisa Zilinski. "Information Behaviors of Cancer Patients in the Information Age"
Library Student Journal
Vol. 5 (2010)
Available at: http://works.bepress.com/lzilinski/3/