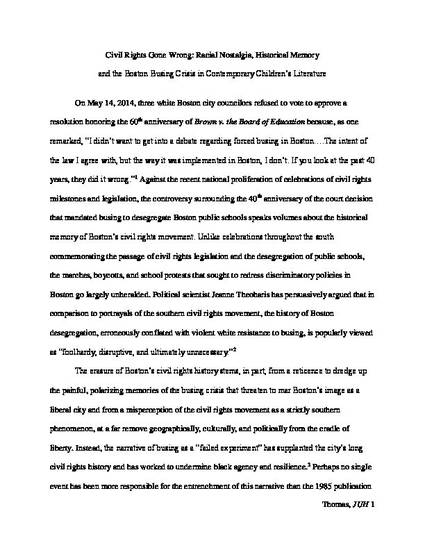 Article
Civil Rights Gone Wrong: Racial Nostalgia, Historical Memory, and the Boston Busing Crisis in Contemporary Children's Literature
American Studies Faculty Publication Series
Publication Date
1-1-2017
Abstract
On May 14, 2014, three white Boston city councilors refused to vote to approve a resolution honoring the sixtieth anniversary of Brown v. the Board of Education because, as one remarked, "I didn't want to get into a debate regarding forced busing in Boston." Against the recent national proliferation of celebrations of civil rights milestones and legislation, the controversy surrounding the fortieth anniversary of the court decision that mandated busing to desegregate Boston public schools speaks volumes about the historical memory of Boston's civil rights movement. Two highly acclaimed contemporary works of children's literature set during or inspired by Boston's desegregation busing plan reflect and respond to the ongoing battle over the history and memory of Boston's civil rights movement and its enduring racial legacy: Busing Brewster, an illustrated children's book for young readers, written by Richard Michelson and illustrated by R. G. Roth; and Gold Dust, a middle-grade novel for adolescents by Chris Lynch. Both works offer representations of an overtly racist past, produced in a historical moment when prevailing ideologies of color blindness and postracialism suggest not only that racism is passé, but that any attempt to redress past racism that takes race into account is itself racist and unjust. Busing Brewster and Gold Dust offer equivocal reflections on urban decline and racial transformations at the turn of the twenty-first century. Both works have as much to tell us about the historical memory of Boston's desegregation efforts as they do about contemporary understandings of race and social justice.
Community Engaged/Serving
No, this is not community-engaged.
Citation Information
Lynnell L. Thomas. "Civil Rights Gone Wrong: Racial Nostalgia, Historical Memory, and the Boston Busing Crisis in Contemporary Children's Literature" (2017)
Available at: http://works.bepress.com/lynnell_thomas/8/