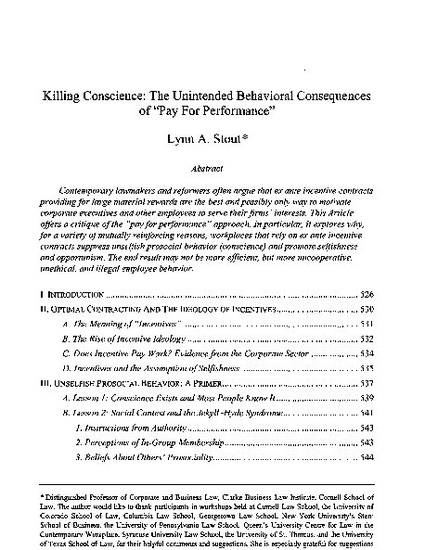 Article
Killing Conscience: The Unintended Behavioral Consequences of "Pay for Performance"
Cornell Law Faculty Publications
Publication Date
4-1-2014
Keywords
Ex ante incentive contracts,
Executive compensation
Abstract
Contemporary lawmakers and reformers often argue that ex ante incentive contracts providing for large material rewards are the best and possibly only way to motivate corporate executives and other employees to serve their firms' interests. This Article offers a critique of the "pay for performance" approach. In particular, it explores why, for a variety of mutually reinforcing reasons, workplaces that rely on ex ante incentive contracts suppress unselfish prosocial behavior (conscience) and promote selfishness and opportunism. The end result may not be more efficient, but more uncooperative, unethical, and illegal employee behavior.
Citation Information
Lynn A. Stout, "Killing Conscience: The Unintended Behavioral Consequences of 'Pay for Performance'", 39 Journal of Corporation Law 525 (2014)