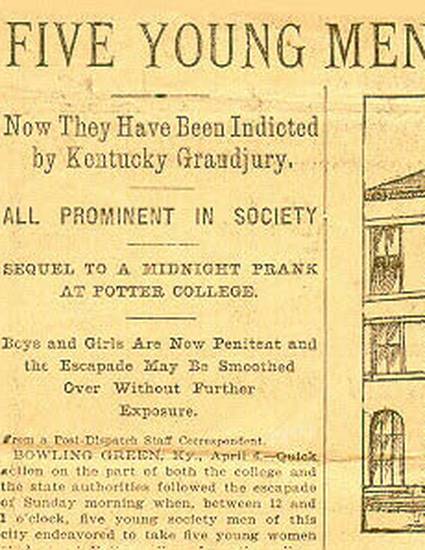 Unpublished Paper
The Duck Supper: Roasting Gender in Early Twentieth-Century Bowling Green
Paper (2012)
Abstract
In 1901, a scandal rocked Potter College for Young Ladies in Bowling Green, Kentucky. Five students attempted to climb from their dormitory window for a midnight rendezvous with some boys from town. When the college's president, Reverend Benjamin F. Cabell, interrupted the prank, a chaotic exchange of gunfire ensued between him and the boys. Cabell's subsequent attempt to hush up the matter, his solicitude for the boys, and his harsh treatment of the female students drew outrage from citizens and mockery from the press. Both the incident and its aftermath highlighted the tension, affecting even this small Kentucky town, between so-called Victorian values and more modern attitudes toward gender, notoriety and character.
Keywords
women,
women's higher education,
potter college,
pleasant j. potter college,
florence cottrell,
bessie simpson,
bessie boyer,
lena hopkins,
ruth haynes,
benjamin cabell
Citation Information
Lynn E. Niedermeier. "The Duck Supper: Roasting Gender in Early Twentieth-Century Bowling Green"
Paper
(2012)
Available at: http://works.bepress.com/lynn_niedermeier/41/