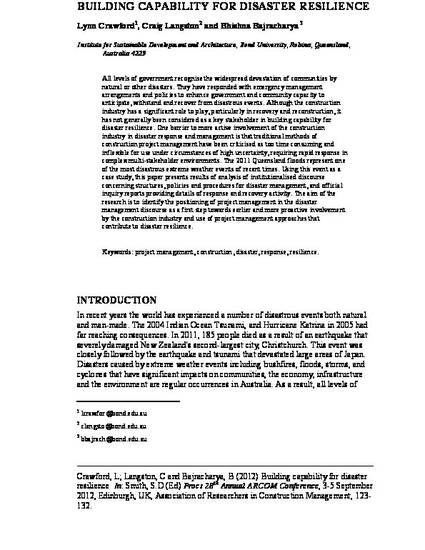 Presentation
Building capability for disaster resilience
28th Annual Conference of Association of Researchers in Construction Management (ARCOM)
Date of this Version
9-3-2012
Document Type
Conference Paper
Abstract
All levels of government recognise the widespread devastation of communities by natural or other disasters. They have responded with emergency management arrangements and policies to enhance government and community capacity to anticipate, withstand and recover from disastrous events. Although the construction industry has a significant role to play, particularly in recovery and reconstruction, it has not generally been considered as a key stakeholder in building capability for disaster resilience. One barrier to more active involvement of the construction industry in disaster response and management is that traditional methods of construction project management have been criticised as too time consuming and inflexible for use under circumstances of high uncertainty, requiring rapid response in complex multi-stakeholder environments. The 2011 Queensland floods represent one of the most disastrous extreme weather events of recent times. Using this event as a case study, this paper presents results of analysis of institutionalised discourse concerning structures, policies and procedures for disaster management, and official inquiry reports providing details of response and recovery activity. The aim of the research is to identify the positioning of project management in the disaster management discourse as a first step towards earlier and more proactive involvement by the construction industry and use of project management approaches that contribute to disaster resilience.
Citation Information
Lynn Crawford, Craig Langston and Bhishna Bajracharya. "Building capability for disaster resilience"
28th Annual Conference of Association of Researchers in Construction Management (ARCOM)
Vol. 1 (2012) p. 1 - 10
Available at: http://works.bepress.com/lynn_crawford/44/