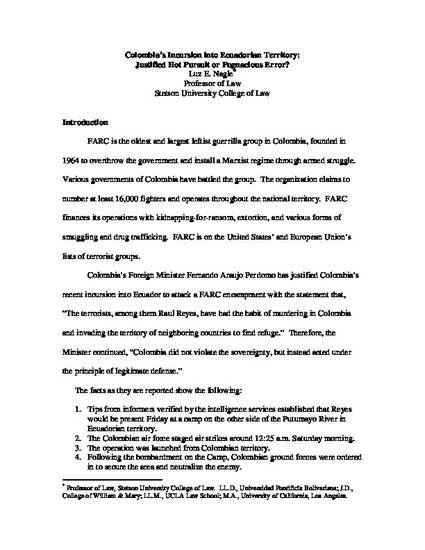 Unpublished Paper
Colombia's Incursion into Ecuadorian Territory: Justified Hot Pursuit or Pugnacious Error?
ExpressO (2008)
Abstract
On March 1, 2008, Colombian military forces launched a cross-border airstrike and ground operation into Ecuador to attack a jungle encampment occupied by high ranking members of the Colombian guerrilla army known as the Revolutionary Armed Forces of Colombia (FARC). The specific target of the air attack was Luis Edgar Devia Silva, aka Raul Reyes, the FARC's number two in command and one of Latin America's longest enduring guerrilla leaders. Reyes and several cohorts were killed. The Colombian forces retrieved Reyes' body and forensic evidence, including his laptop computer, and retreated back across the frontier, leaving the Ecuadorian military to deal with the aftermath and attend to a lone survivor.
The raid sparked a regional crisis that resulted in Ecuadorian and Venezuelan military mobilizations along their borders with Colombia. Colombia's President, Alvaro Uribe, justified the incursion into Ecuadorian territory as an operation of "hot pursuit," an international legal doctrine that allows a nation to give chase across an international frontier in order to capture a rebel force attempting to escape to safe haven in a neighboring country. The justification quickly unraveled, however, when evidence of the actual attack indicated that those in the FARC camp were in bed sleeping at the time of the airstrike on the site, and that the force that went into Colombia on the ground was a clean-up operation rather than an offensive operation.
Although the crisis was resolved two weeks later at a Latin American summit, issues remain over international law doctrines such as hot pursuit, preemptive and anticipatory self defense, and use of the Bush Doctrine by other nations for purposes of crossing into another country's territory to pursue combatants involved in an internal armed conflict. This article examines the international law issues surrounding Colombia's actions and its justifications in the face of harsh international reactions.
Keywords
hot pursuit,
neutrality,
self-defense,
preemptive use of force,
international relations,
international law
Publication Date
March 11, 2008
Citation Information
Luz Estella Nagle. "Colombia's Incursion into Ecuadorian Territory: Justified Hot Pursuit or Pugnacious Error?"
ExpressO
(2008)
Available at: http://works.bepress.com/luz_nagle/1/