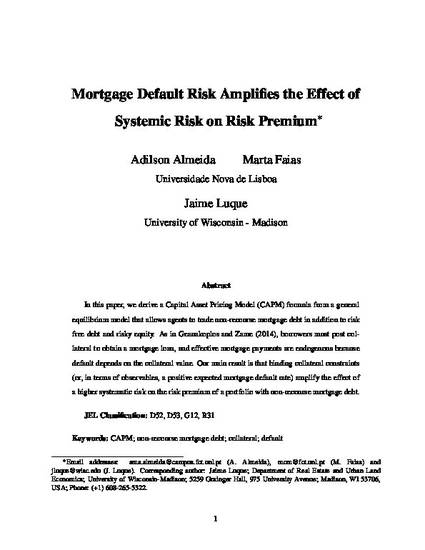 Unpublished Paper
Mortgage Default Risk Amplifies the Effect of Systemic Risk on Risk Premium
(2018)
Abstract
In this paper, we derive a Capital Asset Pricing Model (CAPM) formula from a general equilibrium model that allows agents to trade non-recourse mortgage debt in addition to risk free debt and risky equity. As in Geanakoplos and Zame (2014), borrowers must constitute collateral to obtain a mortgage loan, and effective mortgage payments are endogenous because default depends on the collateral value. Our main result is that binding collateral constraints (or, in terms of observables, a positive expected mortgage default rate) amplify the effect of a higher systematic risk on the risk premium of a portfolio with non-recourse mortgage debt.
Keywords
CAPM; non-recourse mortgage debt; collateral; default.
Publication Date
September, 2018
Citation Information
Adilson Almeida, Marta Faias and Jaime Luque. "Mortgage Default Risk Amplifies the Effect of Systemic Risk on Risk Premium" (2018)
Available at: http://works.bepress.com/luque/35/
Creative Commons License
This work is licensed under a Creative Commons CC_BY-NC-ND International License.